Free Analysis
Medical aesthetics devices are an inclusive term for specialties that focus on improving cosmetic appearance through the treatment of conditions including scars, skin laxity, wrinkles, moles, liver spots, excess fat, cellulite, unwanted hair, skin discoloration, and spider veins. Laser and energy devices play an important role aesthetic treatment.
The medical aesthetic devices market is anticipated to witness substantial growth in coming years. The market is mainly driven by rapid growth in population between the age of 30 to 60 years and growing adoption of minimally invasive surgeries in dermatological applications. Thus, escalating demand for dermatological applications in Asia Pacific market is offering new growth prospects for the global medical aesthetic devices market. However, the high cost of treatment is expected to hamper the growth of medical aesthetic devices market. Nonetheless, advancement in technology is projected to open up new growth opportunities within the forecast period.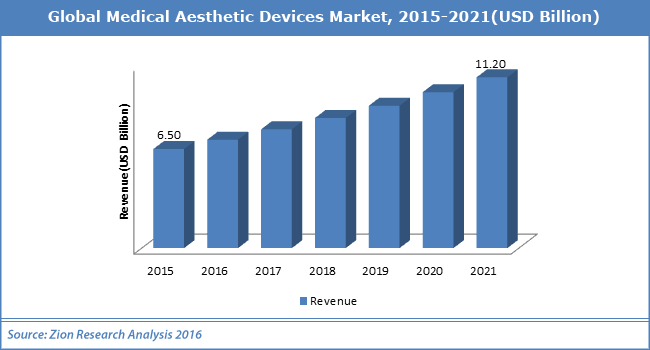 Based on products, medical aesthetic devices market has been segmented into aesthetic skin tightening & body contouring devices, laser & energy devices, aesthetic implants, and facial aesthetic devices. Laser & energy devices were the leading segment and it accounted for over 30% market share of total revenue generated in 2015. Laser & energy devices utilize the combination of energy types in order to provide the most efficient treatment. Thus, this segment is expected to witness strong growth in the next few years. Aesthetic skin tightening & body contouring devices are expected to witness noteworthy growth within the forecast period.
Medical aesthetic devices find widespread applications in various areas such as facial & skin rejuvenation, facial & body contouring, breast enhancement, scar treatment, reconstructive surgery, tattoo removal and hair removal. Facial & body contouring was leading application segment and accounted for a large chunk of market share in 2015. Many people have stubborn pockets of fat that seem impossible to lose even with diet and exercise. Body contouring is able to target these fat areas of patients achieve the desired shape. Scar treatment and tattoo removal are expected to exhibit significant growth in the years to come.
In terms of revenue, North America dominated the medical aesthetic devices market, accounting for 40% share of the total market in 2015. This growth is mainly attributed to the presence of a large base of key manufacturers in this region coupled with technological advancement in this region. Europe was the second largest regional market in 2015 owing to increasing popularity of skin rejuvenation, hair removal, skin tightening, and breast implant procedures. Asia Pacific estimated to be the fastest-growing regional segment during the forecast period, led by increasing disposable income coupled with largest population pool aged between 30 to 65 years is generating demand for aesthetic treatment in China, India, and other countries in Asia Pacific.
Some of the key players in the medical aesthetic devices market are Lumenis Ltd., Mentor Worldwide LLC, Merz, Inc., Alma Lasers, Allergan plc, Cutera, Inc., Galderma S.A., Cynosure, Inc., Syneron Medical Ltd., Solta Medical, Inc., and ZELTIQ Aesthetics, Inc.