Analysis
After harvesting cannabis plants, before the curing of the buds the plants undergo a process of drying. Marijuana retains its chlorophyll even after it is harvested, which makes it unsuitable for smoking. Thus, the plants undergo the drying process. There are different processes and methods for drying marijuana plants. In all the methods, the duration of the drying process and environment quality lead to quality products. After the plant is dried, the buds then undergo curing stage, which is completely different from drying. The buds are placed in glass jars for a couple of weeks to enhance the product's potency and flavor during the curing method.
The global marijuana drying & curing equipment market is likely to experience rapid growth, mainly in developing nations, in the future. The growing acceptance of medical marijuana is the primary factor influencing the marijuana drying & curing equipment market development. Medical marijuana utilizes marijuana chemicals to treat various medical conditions and diseases. Medical marijuana is same as recreational marijuana, but it's prescribed strictly for medical purposes. Cannabidiol (CBD) and Delta-9-tetrahydrocannabinol (THC) are two crucial chemicals that are used in medical marijuana. Additionally, the rising legalization of cannabis/hemp in developed countries like the U.S. is positively impacting the market development. Furthermore, stringent quality control measures during cannabis cultivation are also boosting the global marijuana drying & curing equipment market. However, high initial investments needed for marijuana drying & curing equipment may hinder this global market's growth in the future.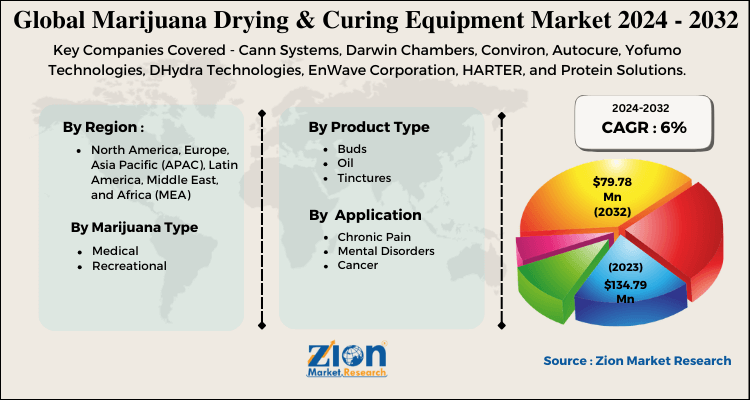 Based on marijuana type, the marijuana drying & curing equipment market includes medical and recreational. On the basis of product type, the market is categorized into oil, bud, and tinctures. By application, the market is bifurcated into chronic pain, mental disorders, cancer, and others.
Majority of the market revenue was contributed by North America in 2018 and is expected to continue its regional authority in the upcoming years as well. The regional market growth is attributed to the increasing consumption of medical and recreational marijuana across the region. Moreover, the growing cannabis cultivation is also expected to boost this regional market in the years ahead. The Asia Pacific marijuana drying & curing equipment market is expected to grow significantly in the future, owing to the growing acceptance of medical marijuana in the Southeast Asian nations. Thailand was the first Southeast nation to legalize the use of medical marijuana.
Some major players operating in the global marijuana drying & curing equipment market include Cann Systems, Darwin Chambers, Conviron, Autocure, Protein Solutions, DHydra Technologies, EnWave Corporation, HARTER, and Yofumo Technologies.