Analysis
The lubrication system is a means where oil, grease, and other lubricants are used between two rubbing surfaces to reduce the friction, heat, and wear. Machines like manufacturing equipment, pumps, turbines, cutting tools, motors, pistons, bearings, cams, chains, vehicles make use of lubrication system to reduce the heat and friction generated; therefore, preventing from getting damaged. The lubricants used in the machines reduce the friction generated between the parts and thus increase the longevity of all the components. Lubrication system benefits in reducing the power consumption due to less friction thus ensuring the safe operation of machinery which, in turn, extends the component life, reduces the maintenance cost, and increases the overall productivity of the system.
Advancement of the novel products which includes synthetic lubricants coupled with the easy availability are the strong factors anticipated to fuel the lubrication systems market growth in upcoming years. In addition to this, growing industrialization and rising automobile sector are also considered to be the major factors driving the lubrication systems market across the globe. Moreover, a rising trend for the automated process leads to the increasing demand for the lubricants which also influences the lubrication systems market during the forecast period. Rapid urbanization also has provoked the market growth. However, lack of awareness among end-user industries regarding the new products can hamper the growth of the market.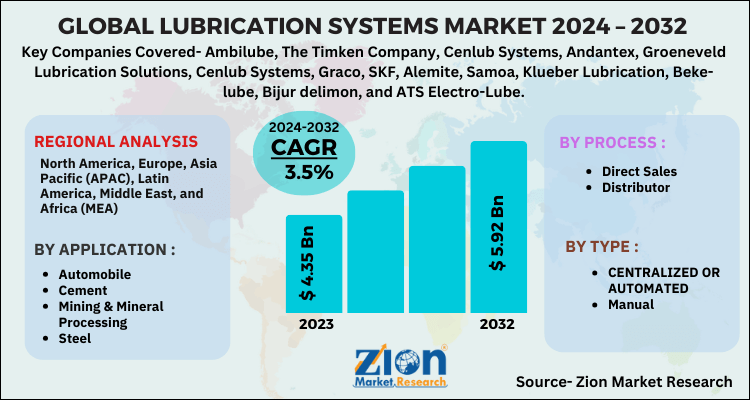 Based on the type of system, lubrication systems market is bifurcated into centralized or automated and manual. On the basis of process, the market is bifurcated into the dry sump and wet sump. Based on the application, the market is bifurcated into automobile, mining & mineral processing, cement, and steel.
Regionally, Asia Pacific accounted for a major revenue share in 2017. The trend is estimated to continue during the forecast period. The region is home for the developing countries such as India, China, South Korea, and others. Therefore, booming end-user industries such as automotive, transportation, and construction are also the considerable factors for market growth in this region. In addition to this, rapid urbanization, growing industrialization, and rising consumerism are major factors stoking the market growth in this region. Other regions such as the Middle East and Africa and Latin America are anticipated to grow at a steady pace in upcoming years.
Some of the major players contributing to the growth of the global lubrication systems market comprise Timken, Andantex, Cenlub Systems, Graco, SKF, Samoa, Klueber Lubrication, Cenlub Systems, Ambilube, Beke-lube, Bijur delimon, Alemite, Groeneveld Lubrication Solutions, ATS Electro-Lube, and many others. Merger, acquisition, and product advancement joint venture are the key strategies by the market players across the globe to strengthen the growth of lubrication systems market.