Free Analysis
Logistic automation is the computer-aided programming and/or automated machinery used to improve the efficiency of logistics operations. Normally this alludes to activities inside a warehouse or distribution center, with more extensive undertakings embraced by supply chain management systems and enterprise resource planning systems. Logistics automation frameworks can capably supplement the facilities provided by these higher level computer systems. More specifically, the term logistics automation can be used to describe the process of automating the storage and distribution of goods in a warehouse and transportation, by using robots and centrally managed computer systems. Many warehouses still do not have completely mechanized frameworks yet depend on pallet trucks and conveyor belts which require human intervention at the time of implementation. However, times are changing and the utilization of robots in the materials handling and logistics industry is winding up progressively.
Growing penetration of IoT & Logistics 4.0 in transportation and warehousing primarily drives the global logistics automation market. Logistics 4.0 deals with various aspects of end-to-end logistics and supply chain management in the perspective of Industry 4.0, IoT, emerging technologies, cyber-physical systems, advanced data analytics, and (semi-)autonomous decisions enabled by Artificial Intelligence. Reduction in operational cost due to the advanced automated logistic systems is another major factor driving the growth of logistics automation market across the globe. Logistics automation inherits features such as integration to commodities via ERP system and access to user's address book, automatic storage, and entry of fuel surcharges and accessorial. Furthermore, increasing need for real-time freight in transportation system propels the growth of global logistics automation market. Real-time freight helps shippers and brokers with freight execution, business automation, internal and external transparency, and data-fueled decision-making. Implementation of driverless vehicles and drones in logistics system has been considered as a potential opportunity in global logistics automation market. However, high installation cost may hinder the growth of logistics automation market across the globe.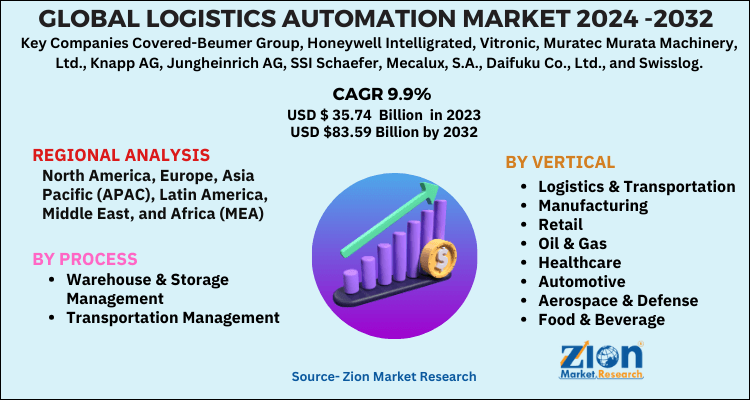 The logistics automation market is segmented into component, vertical, and region. On the basis of the component, the market is categorized into transportation management and warehouse & storage management. Warehouse & storage management segment is expected to gain significant growth in the forecast period in the logistics automation market. This is due to the growing implementation of advanced technologies such as robotics and IoT, in various industries to improve warehouse operations. The vertical segment includes logistics & transportation, retail, manufacturing, oil & gas, healthcare, automotive, aerospace & defense, food & beverage, and others. Retail industry vertical is anticipated to have the highest share in the logistics automation market during the forecast period. This is due to rapid growth in the retail and e-commerce industry which can be attributed to an increase in the adoption of logistics automation solutions. The geographical regions where the logistics automation market is diversified are North America, Europe, Asia Pacific, Latin America, and the Middle East and Africa.
Key players profiled in the global logistics automation market include Honeywell Intelligrated, Murata Machinery, Knapp AG, Jungheinrich AG, SSI Schaefer, Mecalux, S.A., Vitronic, Beumer Group, Daifuku, and Swisslog, among others.