Analysis
Liquefied petroleum gas is a flammable gas, which is used for various applications ranging from cooking to transportation. LPG is either propane or butane or a mixture of various hydrocarbon gases with a significantly high proportion of propane and butane along with a slight proportion of propylene and butylene gases. LPG's chemical composition generally varies according to the processing state of natural gas or crude oil, but its usual composition has a significant share of propane and butane blend with a propane mix ranging from 32% to 98%. It is basically a by-product obtained from refining of petroleum and natural gas processing. It is stored in highly pressurized steel vessels to prohibit its evaporation at normal temperature and pressure.
Rapid urbanization and enhanced purchase parity of population in emerging economies are key factors driving the liquefied petroleum gas market. The transportation industry in developing countries is witnessing a major shift with rapid developments of all modes of transport. Steep rate of motorization in emerging economies has also triggered the growth of the global liquefied petroleum gas market. The industrial sector, especially the petrochemical industry, has escalated the expansion of the global liquefied petroleum gas market. The shift from conventional fuels like coal, kerosene, wood, and cow dung for cooking and other domestic applications to LPG is also contributing to this market growth. LPG is being promoted as a clean fuel source for automobiles, as it releases a remarkably lower level of CO2 as compared to conventional automobile fuel sources. However, low awareness among rural and low-income population, reluctance toward its acceptance due to higher cost, and fluctuation of LPG costs due to volatility in the crude oil market may impede the global liquefied petroleum gas market. Nevertheless, constant support and promotion of LPG from governments globally are expected to generate further growth opportunities for the liquefied petroleum gas market globally.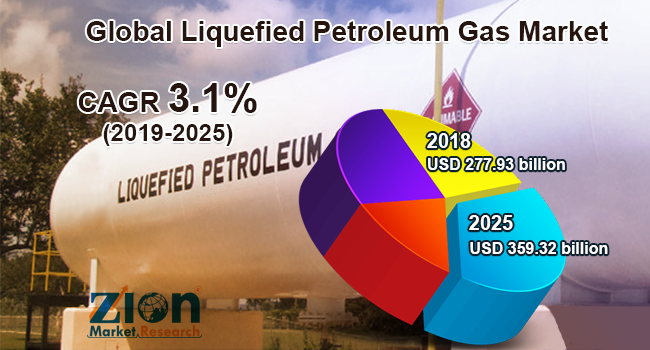 The liquefied petroleum gas market is fragmented on the basis of source and end-user. By source, the market includes associated gas, non-associated gas, and refineries. The refineries segment is the largest source of LPG, followed by associated and non-associated gases. In contrast, the non-associated gas segment is expected to register the highest CAGR in the future. The refineries segment is expected to retain its market leadership with the highest revenue. On the basis of end-user, the market comprises residential and commercial, industrial, petrochemical and refineries, and transportation. The residential and commercial segment holds the highest market share, i.e., about 45%.
The Asia Pacific liquefied petroleum gas market is the leader in terms of revenue and is projected to sustain its global leadership over the forecast time period with the highest CAGR.
Some major players of the liquefied petroleum gas market are Chevron Corporation, British Petroleum, Petroleum National, China Petroleum & Chemical, Royal Dutch Shell, Exxon Mobil, China National Petroleum, Phillips 66, and Valero Energy.