Analysis
Level sensors are used to determine the level or amount of liquid, fluid, or substance that flows in an open or closed system. These sensors are used to monitor the level of a particular free-flowing substance in a contained space. Moreover, some level sensors are also able to monitor the flow of powdered substances. Level sensors have a simple design and are highly effective in performing complex functions. The activities performed in the oil and gas industry are in a harsh environment, and, thus measuring the amount of liquid is even more difficult. Level sensors can withstand extremely harsh temperatures and perform with accuracy and solve issues like leakage and spillage of substances. There are a number of level sensors that are used to detect the point level of liquid substances. Some use magnetic float, which rises and falls with the substance in the container. It has a switch at the top and bottom of the container, which allows one to know the minimum and maximum level of a liquid.
Due to its accuracy and its uses in different industries, the level sensor market is likely to grow notably in the future. The demand for level sensors in the industrial sector is growing considerably, which is also fuelling the level sensor market globally. Level sensors are also used in nuclear power plants to detect the level of water in the cooling circuit, as even a minute error can create a huge disaster in a nuclear power plant. This is another factor propelling the global level sensor market growth. However, level sensors can malfunction in applications that require fluctuating voltage, changing temperature, and high stress, which may hamper the level sensor market growth.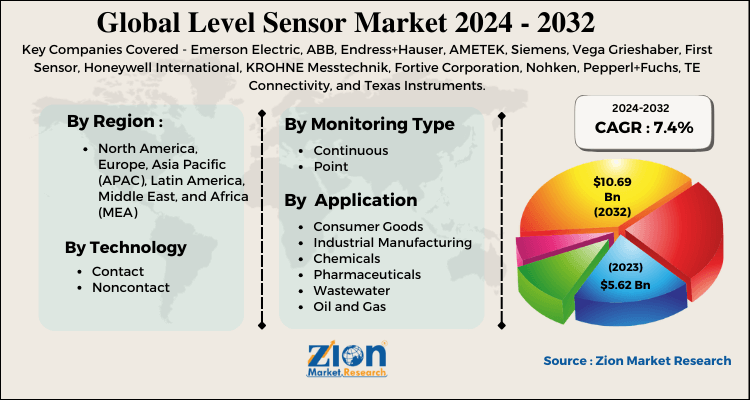 The technology segment of the level sensor market includes contact (magnetostrictive and vibratory probe) and noncontact. On the basis of type, the market is bifurcated into two types: continuous level type sensors that generate an electronic magnetic field for measuring level. These sensors have greater application facility, owing to their faster operations. Point level (electrochemical devices) sensors detect a change through physical contact with materials or objects. By application, the market includes consumer goods, industrial manufacturing, chemicals, pharmaceuticals, wastewater, oil and gas, energy and power, healthcare, and others.
Geographically, North America will hold a substantial share in the global level sensor market in the future, owing to the flourishing pharmaceutical and oil and gas industries and increasing investments in automobile and food processing sectors. A lot of companies in the U.S. are concentrating on developing sensors that offer easy installation with good accessibility. There are several technologies that are used in the North American level sensor market, and the ultrasonic level sensor is the most popular due to its small size.
Some major players operating in the global level sensor market include Emerson Electric, ABB, Endress+Hauser, AMETEK, Siemens, Vega Grieshaber, First Sensor, Honeywell International, KROHNE Messtechnik, Fortive Corporation, Nohken, Pepperl+Fuchs, TE Connectivity, and Texas Instruments.