Analysis
Cannabis is a flowering plant, with several varieties. Marijuana and hemp are two cannabis varieties. Cannabinoids (THC) is highly psychoactive in nature and leads to intoxication. Thus, marijuana or cannabis is not legalized in several countries globally. Marijuana is a greenish-gray color mixture of dried flowers of cannabis sativa. The global expansion of the legal marijuana market is due to the growing marijuana adoption for various medical treatments, such as mental disorders, chronic pain, cancer, etc. Some countries are in the process of decriminalizing recreational marijuana as well.
The growth in the global legal marijuana market is driven by cannabis legalization for medical and recreational purposes in various countries around the world. Huge investments made for the research and development of safe marijuana for ingesting, such as oils, tinctures, and vapes, among other edibles, is also expected to fuel the legal marijuana market in the future.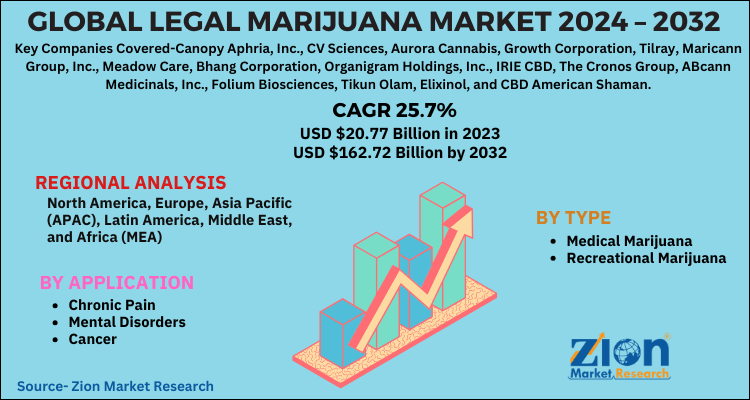 Legal marijuana market is segmented on the basis of type, product type, and application. Based on the type, this market is bifurcated into medical marijuana and recreational marijuana. By product type, the market is segmented into buds, oil, and tinctures. On the basis of application, the legal marijuana market is divided into chronic pain, mental disorders, cancer, and others.
Based on geography, the global legal marijuana market is segmented into five major regions: North America, Latin America, Europe, Asia Pacific, and the Middle East and Africa. North America and Europe accounted for largest shares in the global legal marijuana market in the year 2017 and are expected to register significant growth over the forecast years. The legalization of cannabis in the U.S. for recreational and medical purposes this market's growth in North America. In terms of growth rate, Asia Pacific is estimated to register the highest CAGR in the global legal marijuana market over the forecast timeframe.
Some of the leading players in legal marijuana market include Canopy Aphria, Inc., Aurora Cannabis, Growth Corporation, Tilray, Maricann Group, Inc., Meadow Care, Organigram Holdings, Inc., The Cronos Group, ABcann Medicinals, Inc., Folium Biosciences, Tikun Olam, IRIE CBD, Elixinol, Bhang Corporation, CV Sciences, and CBD American Shaman. The number of companies operational in the marijuana market is growing, which is anticipated to augment the variety and quantity of products supplied to the end-users. Marijuana oil has started gaining popularity over the last few years, due to its amplified safety and effectiveness in comparison to smoking pot. Moreover, increasing research and development activities related to cannabis manufacturing has led to the introduction of newer marijuana strains. The advancements made in the research field and product development are projected to further boost the adoption of marijuana products among consumers.