Analysis
Everybody wants a great smile, but many of us need help to get that bright smile. Many people achieve success with invisible orthodontics products. A wide section of the population doesn't consider having braces to be a good idea, but invisible braces have entirely changed their thought processes. These invisible braces remove the stigma of having braces to a great extent as along with reducing the discomfort faced with conventional braces. Ceramic braces are connected with wires to boost teeth movement. Aligners are a series of tight-fitting custom-made mouthpieces that slip over the teeth. Braces are used to align misaligned teeth, majorly in children. However, there are certain dental issues in adults that cannot be treated by traditional braces. Invisible braces are used to treat adult dental problems as well. Traditional braces are placed in front of the teeth, whereas invisible braces are placed at the backside of teeth. This makes them invisible to others. Invisible orthodontics is fully customizable and follows the contour of teeth apart from giving comfort. This is the primary growth driver for this market. Additionally, the treatment starts with a doctor's consultation, then the impressions of teeth are taken, models are made, and then analyzed by scanning them via a computer. Invisible orthodontics is safer and more comfortable to wear as compared to traditional braces.
The global invisible orthodontics market is bifurcated in product type, patient group, and end-user. Based on product type, the invisible orthodontics market is classified into ceramic braces, clear aligners, and lingual braces products. Clear aligners are expected to hold the major market share over the forecast time period. On the basis of the patient group, the invisible orthodontics market is categorized into adults and teenagers. The teenager's segment is expected to develop considerably over the forecast time period. Based on end-user, the invisible orthodontics market is segmented into hospitals and dental and orthodontic clinics. Hospitals held the major market share in 2018.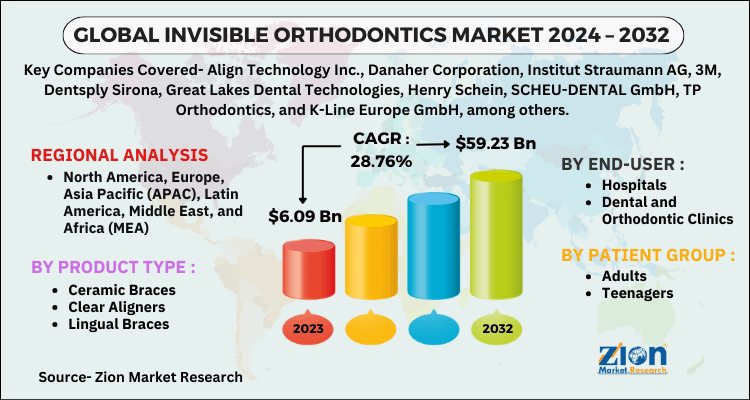 By region, North America is expected to lead the global invisible orthodontics market over the forecast time period and will be closely followed by Europe. The Asia Pacific invisible orthodontics market will be experiencing rapid growth in the years ahead. The Middle East and Africa and Latin America are expected to grow considerably over the forecast time period, due to the introduction of new technologies, raising awareness about aesthetic needs, and favorable government initiatives.
Some key players of the global invisible orthodontics market are Align Technology Inc., Danaher Corporation, Institut Straumann AG, 3M, Dentsply Sirona, Great Lakes Dental Technologies, Henry Schein, SCHEU-DENTAL GmbH, TP Orthodontics, and K-Line Europe GmbH, among others.