Analysis
A wireless sensor network (WSN) comprises of a number of sensors placed at strategic locations in the vicinity of a specific environment. These sensors gather data about particular areas which are within their range and then pass on this information to a central station. The central station receives information from all the sensors after that it collates and analyzes the data about a particular atmosphere. Type of data that a sensor can provide includes pressure, temperature and decibel level conditions. WSNs were initially used for military applications for the reason of surveillance in a battlefield area. At present, WSNs are used across a wide range of application.
Global industrial wireless sensor networks (IWSN) market is primarily driven by high reliability of wireless technology compared to wired technology. In addition, growing security concern for automation industry coupled with increasing adoption of sensor networks in order to monitor various processes spurs industrial wireless sensor networks to demand. Furthermore, growing trend of smart factories, low cost of industrial wireless sensor networks, and faster deployment is predicted to favor the industrial wireless sensor networks market growth. On a contrary, availability of multiple wireless communication standards is expected to have the adverse impact on industrial wireless sensor networks market. Nonetheless, energy consumption without losing accuracy, and technological advancements in wireless communication are some of the factors may disclose new avenues for industrial wireless sensor networks market in the near future.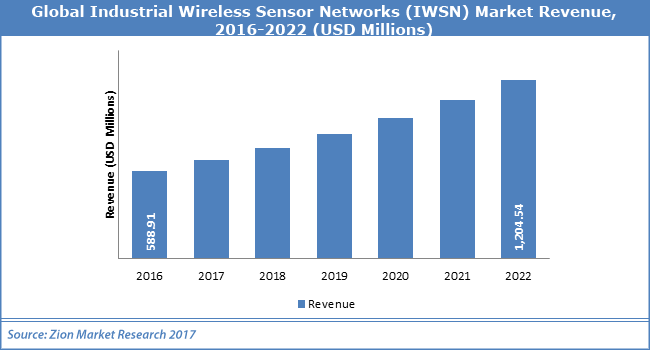 Based on sensors, global industrial wireless sensor networks market is bifurcated into chemical & gas sensors, humidity sensors, motion & position sensors, temperature sensor, pressure sensors, level sensors, flow sensors and image & surveillance sensors. On the basis of application, market categorized into food & beverages, automotive, energy, and power, healthcare, oil & gas, chemical and others. The technologies segment bifurcated into Wi-Fi, ISA100.11a, Bluetooth, WLAN, Wireless HART, ZigBee and others.
North America emerged as dominating the regional market for industrial wireless sensor networks in 2016. Adoption of smart factories and intelligent manufacturing paired with the presence of many IWSN manufacturers will drive the growth of North American market in near future. High demand to automate the process to improve the productivity is predicted to drive the industrial wireless sensor networks market in coming years.
Key players in this market are Endress+Hauser AG, Lantronix Inc., Honeywell Process Solutions, ABB Ltd., Linear Technology Corporation, Siemens AG, Schneider Electric SA, Emerson Process Management, Digi International Inc., Freescale Semiconductor, Inc., Millennial Net Inc., Texas Instruments, STMicroelectronics and Yokogawa Electric Corporation amongst others.