Analysis
The IIoT is a part of a bigger concept known as the internet of things (IoT). The IoT is a system of intelligent computers, gadgets, and objects that gather and share huge amounts of data. The gathered information is sent to a central cloud-based administration where it is accumulated with other information and then shared with end users in a helpful way. The IoT will increase automation in homes, schools, stores, and in numerous businesses. The application of the IoT to the manufacturing industry is called the IIoT. The IIoT will reform manufacturing by empowering the procurement and accessibility of far greater amounts of data, at far more prominent speeds, and much more effectively than before. Various innovative organizations have begun to execute the IIoT by leveraging intelligent, connected devices in their processing plants.
Development of new operating models to create a connected enterprise for merging operational and information departments by leading organizations across the globe primarily drive the growth of industrial internet of things (IIoT) market. For instance, Rockwell Automation developed a five-stage connected enterprise maturity model that incorporates measures and best practices necessary to ensure effective change in both technologies and organizational cultures. This transformation is anticipated to increase the overall productivity, enhance operational productivity, enhance visibility, and diminish the complexities of various processes in the industry. The progressive advantages in manufacturing processes on account of deployment of the industrial internet of things are another factor driving the industrial internet of things (IIoT) market. This is on the grounds that IIoT enhances operational effectiveness by methods for saddling data and acting in response to the data gathered from smart machines. Furthermore, increasing investments in smart technologies to improve operational efficiency by various industries is anticipated to propel the global industrial internet of things (IIoT) market. However, lack of a defined protocol or standardization and use of old equipment are restraining the growth of global industrial internet of things (IIoT) market.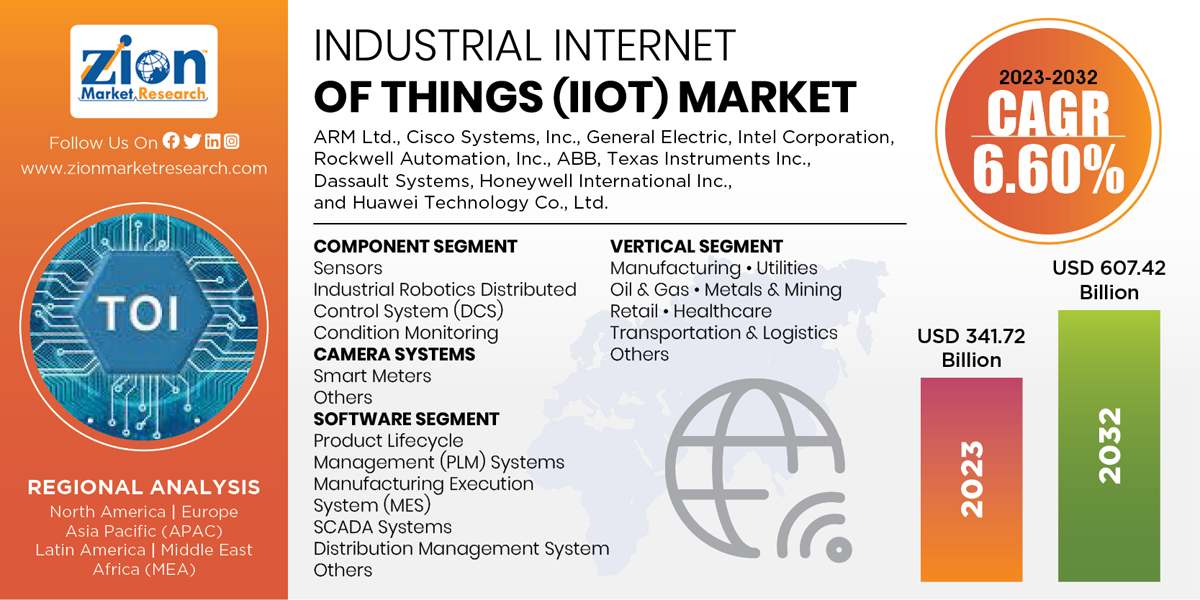 Industrial internet of things (IIoT) market is segmented based on component, software, vertical, and region. The component segment included in this market are sensors, industrial robotics, a distributed control system (DCS), condition monitoring, camera systems, smart meters, and others. Camera system segment is expected to grow at highest CAGR in given forecasted period. This is mainly due to increasing use of camera systems for security purpose in various industries such as manufacturing and transportation. Software segment includes product lifecycle management (PLM) systems, manufacturing execution system (MES), SCADA systems, distribution management system, and others. Among software segment, the demand for distribution system has increased over the period of time due to increasing use of distribution system in transportation and logistics industry. The vertical segment includes manufacturing, utilities, oil & gas, metals & mining, retail, healthcare, transportation & logistics, and others. The manufacturing sector is expected to witness moderate growth in the industrial internet of things (IIoT) market due to the adoption of advanced robotics and cloud robotics in manufacturing practices. The regional segmentation includes the current and forecast demand for North America, Europe, Asia Pacific, Latin America and the Middle East and Africa with its further bifurcation into major countries including U.S., France, UK, Germany, China, India, Japan, and Brazil.
Key players profiled in the global industrial internet of things (IIoT) market include ARM Ltd., Cisco Systems, Inc., General Electric, Intel Corporation, Rockwell Automation, Inc., ABB, Texas Instruments Inc., Dassault Systems, Honeywell International Inc., and Huawei Technology Co., Ltd.