Free Analysis
Industrial automation is the use of different control systems such as computers or robots, and information technologies for operating various machinery equipment. Industries execute automation processes to increase productivity and decrease the employees costing and other associated expenses. Industrial automation benefits with high productivity, quality, flexibility, information accuracy, and safety. Moreover, it also benefits from operating multiple processes in a controlled manner. In addition to this, it has become crucial for the companies to exploit their productivity by the automation which leads to the shifting demands of the end-users.
Technological advancements such as development in the computer-aided systems, engineering technologies, and the internet of things (IoT) are the strong factors positively influencing the market. Moreover, rising demand for fast production capacities is largely propelling the market growth. High demand majorly exists in automotive assemblies, aircraft, boilers, telecom networks, machinery systems, and others. Additionally, most of the industrial players are implementing the automation systems to decrease the labor count which consequently boosts the market at a considerable pace. Therefore, such factors are anticipated to fuel the market growth in the forecast period.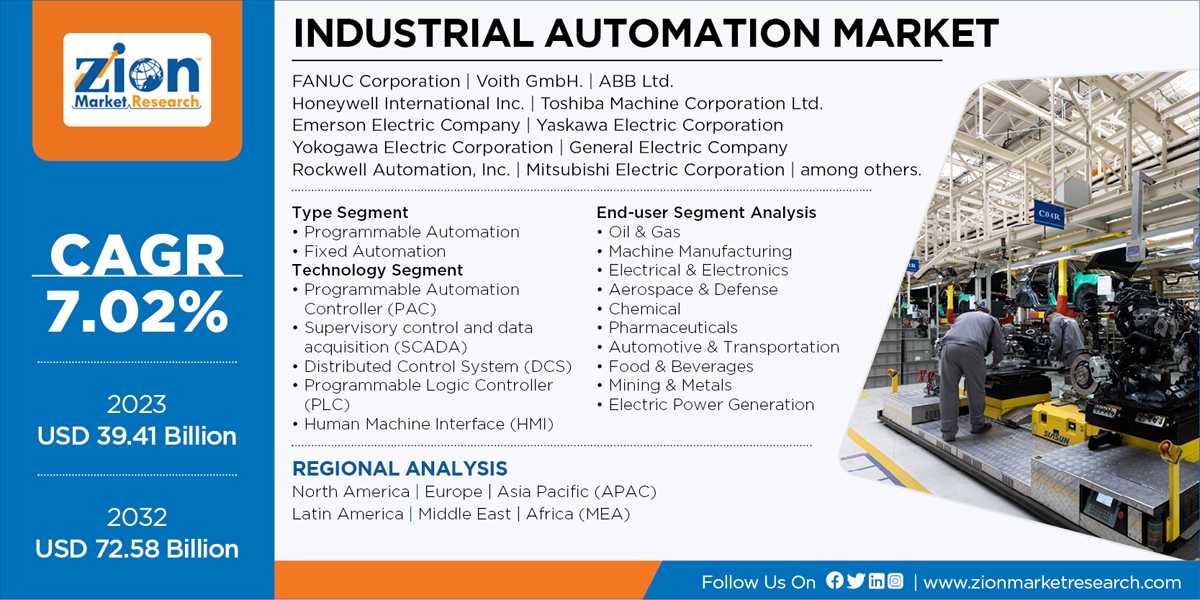 On the basis of type, industrial automation market is segmented into fixed automation and programmable automation. Based on the technology, the market is segmented into Human Machine Interface (HMI), Programmable Logic Controller (PLC), Programmable Automation Controller (PAC), Supervisory control and data acquisition (SCADA), and Distributed Control System (DCS).On the basis of end-user, the market is divided into Machine Manufacturing, Oil & Gas, Electrical & Electronics, Chemical, Aerospace & Defense, Pharmaceuticals, Food & Beverages, Mining & Metals, Automotive & Transportation, and Electric Power Generation.
On the basis of region, Asia Pacific is expected to hold the largest market share in terms of revenue in the upcoming years. The growth is accredited to the existence of the major players in this region such as Toyota Motor, Volkswagen, Daimler, and Renault. Major players making investments in the automation system is driving the market growth in forthcoming years. This region will be the major contributor to the market growth due to the rising fame of industrial automation. Europe is projected to be the second largest market for industrial automation.
Some of the most important market players in the global industrial automation market are FANUC Corporation, Voith GmbH., ABB Ltd., Honeywell International Inc., Toshiba Machine Corporation Ltd., Emerson Electric Company, Yaskawa Electric Corporation, Yokogawa Electric Corporation, General Electric Company, Rockwell Automation, Inc., and Mitsubishi Electric Corporation, among others.