Free Analysis
The image sensor is a sensor that senses and delivers the information. The information detected by the image sensor comprises an image. Image sensors are used in various industries such as include surveillance, cameras, mobile phones, medical and others. Image sensors are widely used in consumer electronics, aerospace and defense industry to probe and in the automotive industry. 3D motion sensor which is motion tracking sensor is the most advanced technology and is being integrated with computers and mobile phones.
Major factors which drive the growth of the image sensor market are increasing intense usage of image sensor across various applications and technological advancement in sensors. Further, improving standards of living in developing countries are enabling dilettantes to purchase high-end digital cameras for their desire to take high-quality photographs is obliquely driving the image sensors market. However, the high manufacturing cost can restrain the growth of the image sensor market. Nonetheless, growing infrastructure development and government initiatives toward safety at public places in regions will provide an opportunity to this market over the forecast period.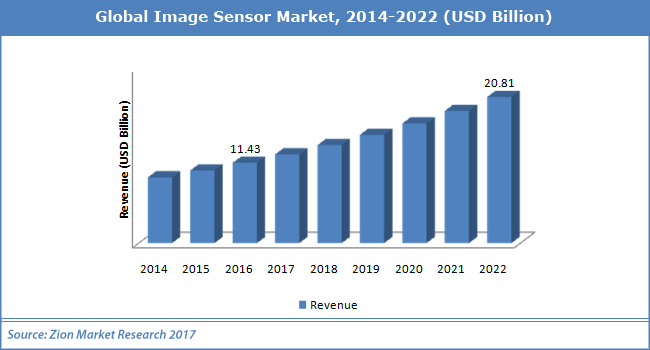 Image sensor market is segmented into CMOS image sensor, CCD image sensor, and a hybrid image sensor. The advent of CMOS technology in the eighties led to the phenomenal growth in the semiconductor industry. Transistors have become smaller, faster, consume less power and are cheaper to manufacture. It is CMOS technology which has enabled very high integration on the chips leading to modern high performance, miniaturized integrated circuits. Hence, the CMOS technology has generated the highest revenue in 2016 and is projected to maintain its dominance over the forecast period. CCD image sensors are widely used in professional, medical, and scientific applications where high-quality image data are required. By array type, the image sensor market is segmented into linear image sensor and area image sensor where the linear image sensor is witness to highest CAGR in coming years. Application wise, the image sensor market is divided into aerospace, automotive, consumer electronics, healthcare, industrial, entertainment, security & surveillance and others. Among these applications, consumer electronics is dominating the image sensor market due to the adoption of dual cameras and the proliferation in a smartphone. In the automobile sector, image sensors use for in blind-spot viewing, lane-departure warning systems, and automatic headlight dimming. Rear, corner, and blind-spot viewing systems are the most common use of cameras in cars. In the healthcare sector, image sensors are used for cardiology, radiography, fluoroscopy, mammography, dental imaging, endoscopy, minimally invasive surgery, external observation, laboratory equipment, ocular surgery and observation, and artificial retinas.
Asia Pacific is leading region for image sensor market due to favorable consumer preferences along with the presence of a large number of major manufacturers. North America is the second largest region for image sensor market due to increasing usage of CMOS sensor in consumer electronics and automotive industry. Latin America is expected potential growth due to increasing huge competition between manufacturers.
ABB Ltd, Vishay Intertechnology, Inc, Delphi Automotive LLP, Honeywell International, Inc, Raytek Corporation, Meggitt Sensing Systems, Analog Devices Inc., Infineon Technologies AG, Motorola Solutions, Inc., Robert Bosch GmBH, Siemens AG and others are the major players in the image sensor market.