Analysis
Homeopathy is an alternative medicine practice that uses a diluted amount of certain natural substances or products for treating various diseases. It was developed by a respected German doctor named Samuel Hahnemann, in the late 17th century. The growing incidences of chronic diseases, an increase in the side effects of allopathic medicine, and the growing awareness about homeopathy as an alternative medicine form is fueling the growth of homeopathy products market globally.
In America, according to the National Health Council (NHC), approximately 45% of the total American population suffers from some or the type of chronic diseases. There is a rapid increase in the use of homeopathy products to treat chronic diseases. The increase in the prevalence of chronic diseases is anticipated to fuel the expansion of homeopathy products market. The increasing side effects of allopathic medicines, rising acceptance of alternative medications, and growing demand for convenient medication dosages are some factors fueling the growth of homeopathy products market globally. The increasing expenditure on healthcare, growing disposable income in developing countries, such as China and India, and a rising preference for low-cost medication alternatives are also driving the global market for homeopathy products.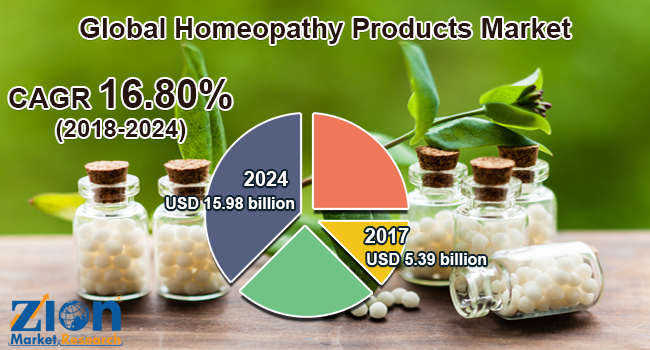 The homeopathy products market is divided on the basis of application, product, and source. Based on the product, the market for homeopathy products is classified into dilutions, ointments, tincture, tablets, biochemics, and others. The ointment segment is expected to show the highest CAGR in the forecast period. The source segment of the homeopathy market includes minerals, animals, and plants. The minerals segment is anticipated to show rapid growth in the upcoming years. On the basis of application, the homeopathy products market is categorized into neurology, analgesic and antipyretic, immunology, respiratory, dermatology, gastroenterology, and others.
Europe is anticipated to lead the homeopathy products market in the forecast timeframe. The rising occurrences of chronic diseases, well-developed homeopathy technology, and products, and growing support by government for homeopathy products are fueling this market's growth in the European region. Increase in the demand for better treatment procedures, rapid technological developments, and increasing awareness about low-cost medicines are some factors driving the growth of the homeopathy products market in the Asia Pacific region. The increase in the side effects of allopathic medicines is also driving the population toward homeopathy medicines, which is contributing to this market's growth.
The major players in the homeopathy products market are Boiron Group, Homeocan Inc., Standard Homeopathic Company, Hahnemann Laboratories, Inc., Nelson & Co. Ltd., Biologische Heilmittel Heel GmbH, Medital International Inc., GMP Laboratories of America Inc., Washington Homeopathic Products, Inc., and Ainsworths Ltd. The major companies focus on launching their products in different countries to expand their presence worldwide. For Instance, in 2018, Boiron launched its pre-medicated homeopathy products in India for the first time.