Free Analysis
Hemp is a good source of nutrients and consists of several healthy fats and minerals. Hemp milk is very similar to dairy milk in terms of color and texture. However, it largely differs in nutritional content in comparison to dairy milk. Hemp milk is non-dairy milk of premium quality that is enriched with different nutrients.
Hemp is an environment-friendly and fast-growing crop with low cost of production. The rise in the demand for hemp milk from various end-users has led to an increase in the production of hemp milk. This is the primary factor fuelling the global hemp milk market. Currently, some 50 countries across the globe like Canada, China, and several members of the EU are producing significant amounts of hemp milk. The consumers are opting for non-dairy milk products due to their high nutritional properties and low costs. Moreover, increasing health awareness about the benefits of organic food is expected to grow notably over the forecast time period. As per a recent survey, around 43% of global consumers prefer food with natural ingredients that are devoid of any kind of genetically modified organisms (GMOs). Furthermore, several renowned athletes, celebrities, and some leading companies are also endorsing plant-based products consumption. This has shifted the manufacturers' focus to introducing hemp milk in various flavors that have low-calorie content or is unsweetened to target the niche consumers. These are some factors expected to drive the global hemp milk market over the forecast time period. However, the escalating demand for hemp plant-based products over cow milk can be attributed to its low-calorie content and nearly the same amount of fat may affect this market's growth. On the other hand, the increasing consumer preference for healthier food items is anticipated to further contribute to the hemp milk market globally.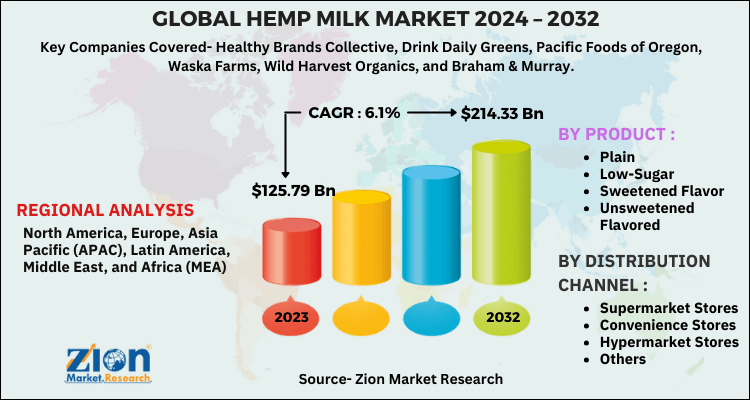 Based on product, the hemp milk market is fragmented into plain, low-sugar, sweetened flavor, and unsweetened flavored. On the basis of the distribution channel, the market is categorized into supermarket stores, convenience stores, hypermarket stores, and others.
The regional segment of the global hemp milk market includes North America, Europe, Latin America, Asia Pacific, and the Middle East and Africa. North America was the largest market for hemp milk in 2018. The region has key revenue pockets in countries like the U.S. and Canada, which are some of the key consumers of hemp milk.
Some major players operating in the global hemp milk market are Healthy Brands Collective, Drink Daily Greens, Pacific Foods of Oregon, Waska Farms, Wild Harvest Organics, and Braham & Murray.