Analysis
Hemp-based food products have gained huge popularity in recent times, as they are easy to digest apart from being free from gluten, allergens, genetically modified organisms (GMO), lactose, phytoestrogen, and pesticides. These properties play a key role in their popularity among consumers.
Hemp is a good source of fiber and different vitamins and minerals, such as magnesium, vitamin E, zinc, and iron. Consumption of hemp-based food products helps in the maintenance of a healthy digestive system, which drives the global hemp-based food market growth. The hemp-based food products are used in nut butter, corn chips, and snack bars. This is also fuelling the hemp-based food market. The demand for hemp-based food products in the food industry has also increased, as hemp seeds are highly rich in protein and thus used increasingly in packaged foods like bread, pretzels, granola bars, and cereals. However, the high cost of raw materials may hamper the hemp-based food market development. Alternatively, the increasing demand in the food and beverage industry is projected to further contribute to the growing demand and development of hemp-based food. This is expected to provide growth opportunities for the hemp-based food market.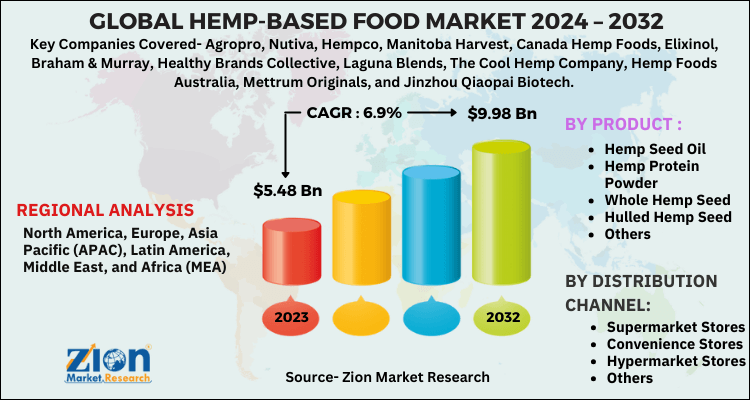 Based on product, the hemp-based food market is fragmented into hemp seed oil, hemp protein powder, whole hemp seed, hulled hemp seed, and others. The hemp seed oil segment holds the highest market share currently and is likely to grow further over the forecast time period. Hemp Oil is known for its Omega-3 benefits as it contains a right balance of Omega-3 to Omega-6. Hemp oil is a popular product, which is widely used to make salad dressings and dips apart from being used as a topping for rice, vegetables, and potatoes. On the basis of distribution channel, the hemp-based food market is categorized into supermarket stores, convenience stores, hypermarket stores, and others.
By region, global hemp-based food market includes North America, Europe, Latin America, Asia Pacific, and the Middle East and Africa. The Asia Pacific was the largest market for hemp-based food products in 2018. The region's key revenue pockets are the emerging countries of China and India, which are the major consumers of hemp-based food products.
Some major players operating in the global hemp-based food market are Agropro, Nutiva, Hempco, Manitoba Harvest, Canada Hemp Foods, Elixinol, Braham & Murray, Healthy Brands Collective, Laguna Blends, The Cool Hemp Company, Hemp Foods Australia, Mettrum Originals, and Jinzhou Qiaopai Biotech.