Free Analysis
Hearing aids help a person with hearing loss, by making sound audible for them. Today, the most common issues faced by the population with hearing impairment are hearing in wind and hearing speech in an extremely noisy environment. However, earlier devices are switched with modern hearing aids that are more compact and easy-to-use. New technologies are being introduced in the market, which offers natural quality sound without disturbance. Next-generation hearing aids are being developed in order to tackle common problems faced by current hearing aid devices. Hearing aids today come with smart sensors that offer more convenience to the users. Wireless hearing aids developed by many companies are gaining traction in the hearing aids market.
As per the WHO stats, nearly 7-8% of the population is suffering from hearing impairment. Besides, almost 20% of the adult and geriatric population is affected by hearing loss, the majority of which is found in less developed countries. This inability to communicate with others is leading to feelings of loneliness, frustration, and social exclusion among the aged population. To curtail the unmet demand for these devices, the manufacturers in the hearing aids market are developing devices that can be inserted in the ear, thus, making them invisible to overcome the social stigma linked with such devices. Manufacturers in the hearing aids market are involved in new product development. For instance, Bluetooth connectivity features in hearing aid devices are helping the users to have a better quality of life. Furthermore, the introduction of digital signal processing has also revolutionized the hearing aids market. Furthermore, technological developments like speech enhancement and digital noise reduction are further likely to facilitate this market's growth globally.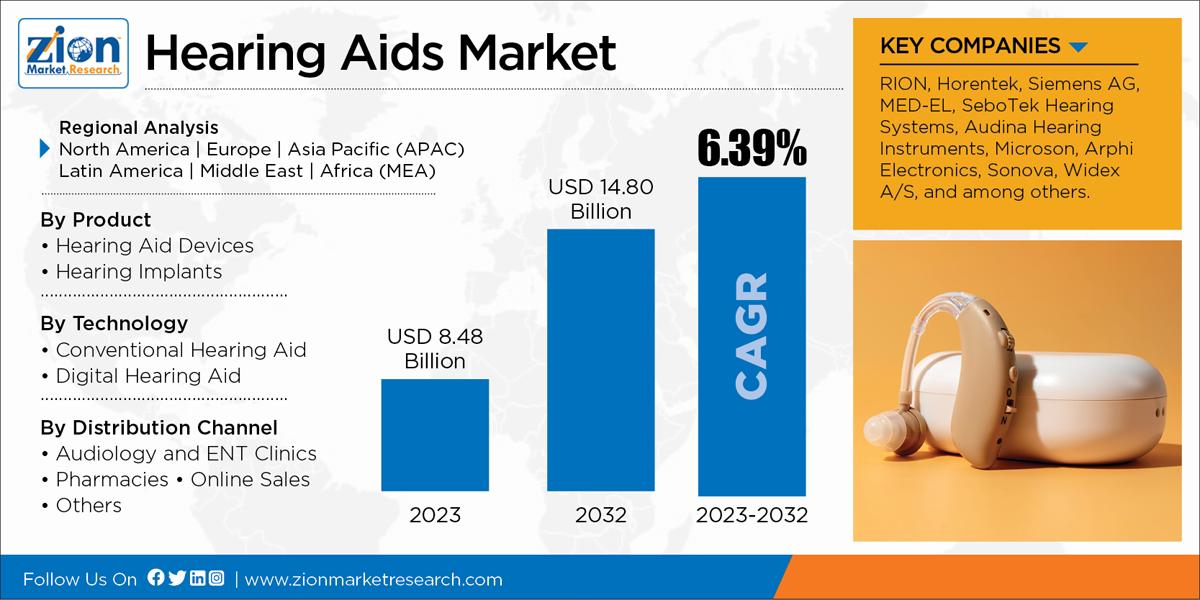 The hearing aids market is segmented on the basis of product, technology, and distribution channel. By product type, this market is segmented into hearing implants and hearing aid devices. The hearing implants are further segmented into cochlear implants and bone-anchored systems. The hearing aid devices segment is further divided into receiver-in-the-ear hearing aids, canal hearing aids, in-the-ear (ITE) hearing aids, behind-the-ear hearing aids, and other hearing aid devices. By technology, this market is segmented into the conventional hearing aid and digital hearing aid. By distribution channel, this market is segmented into audiology and ENT clinics, pharmacies, online sales, and others.
North America and Europe are anticipated to dominate the market for hearing aids and are likely to hold major market shares in the forecast time period. High patient awareness related to hearing impairment, speech-language therapies, technology innovation, and government initiatives and reimbursement policies are likely to make North America and Europe the leading growth regions in the global hearing aids market. Moreover, market vendors are more focused on leveraging advanced technology to enable product enhancement and modification of digital hearing aids. The Asia Pacific is likely to witness an attractive growth rate in the upcoming years since the regional manufacturers are focusing on developing low-cost devices with higher efficiency. Additionally, the leading market players are investing in local companies to lower their costs of labor and raw materials.
Some leading players in hearing aids market include Horentek, MED-EL, Audina Hearing Instruments, Microson, SeboTek Hearing Systems, Sonova, RION, Arphi Electronics, Siemens AG, and Widex A/S.