Analysis
The healthcare distribution alliance (HDA) is the domestic organization representing main pharmaceutical distributors—the essential connection between nationwide pharmaceutical and pharmaceutical producers, hospitals, long-term care centers, clinics, and others. The global healthcare distribution market involves storing and transferring pharmaceutical products to wholesalers, hospitals, and patients directly from manufacturing plants. Pharmaceutical products manufacturers maintain strong partnerships with 3PL providers for promoting cost-effective and efficient metrics. Healthcare companies are complying with several rigid public regulations, as pharmaceutical products should be available to patients in usable forms to ensure that these products adhere to their respective safety records. Businesses may also choose to boost their distribution procedures via outsourcing under certain conditions.
The healthcare distribution market is likely to grow swiftly in the future, as healthcare distribution systems are crucial for maintaining an integral part of the supply chain management. Healthcare distributors ensure patient safety and medicinal products through safe and efficient distribution of healthcare goods and services. This market growth is also driven by the enhanced chronic disease incidences, major investments in research and development, improved importance of generics, escalated application of track and trace solutions, and substantial developments in the medical equipment industry.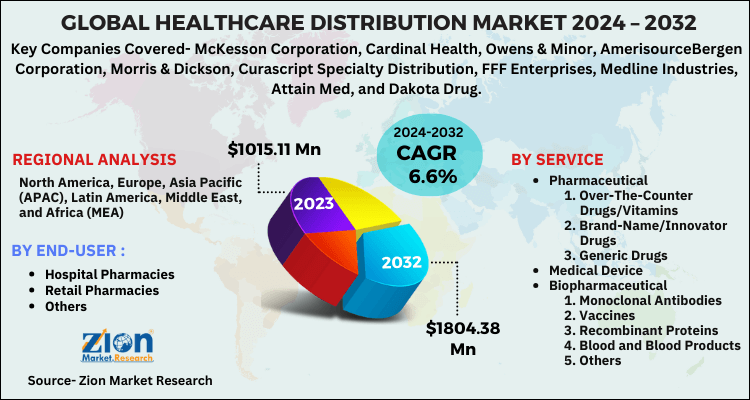 The healthcare distribution market is fragmented based on distribution service and end-user. By service, the healthcare distribution market includes pharmaceutical, biopharmaceutical, and medical device. The pharmaceutical segment is further divided into vitamins/over-the-counter drugs, generic drugs, and innovator drugs/brand-name. The biopharmaceutical segment includes blood and blood products, recombinant proteins, vaccines, monoclonal antibodies, and others. The pharmaceutical segment accounted for the largest market in 2018, majorly due to the rising pharmaceutical formulations production, increasing pharmaceutical R&D expenditure, growing outsourcing of pharmaceutical manufacturing to Asian countries. The end-user segment is divided into retail pharmacies, hospital pharmacies, and others. Retail pharmacies accounted for the largest share of the market in 2018, as these pharmacies deal with large prescription volumes on a daily basis.
In 2018, North America dominated the healthcare distribution market globally. The increasing legislative demands in the healthcare sectors of several Asia Pacific nations will aid the Asia Pacific healthcare distribution market to register a notable CAGR over the forecast time period. Additionally, this region will also grow due to rising compliance with mandatory manufacturing and distribution practices and increasing number of pharmaceutical and biotechnology businesses. China and India are the fastest-growing markets in this region, largely due to the growing pharmaceutical industries and rising application of stringent legislation to improve pharmaceutical drug quality and reliability.
Some key players of the healthcare distribution market include McKesson Corporation, Cardinal Health, Owens & Minor, AmerisourceBergen Corporation, Morris & Dickson, Curascript Specialty Distribution, FFF Enterprises, Medline Industries, Attain Med, and Dakota Drug.