Analysis
Telehealth is becoming vital to healthcare delivery system which enables remote patients' access to healthcare professionals and connects the healthcare providers with other practitioners over worldwide. Telehealth is the transmission of information from one site to another through electronic information and telecommunication technology to facilitate the diagnosis, consultation, treatment, education, care management and self-management of a patient's health care of patients residing in remote areas. For example, approximately 20 percent of Americans live in rural areas where many do not have easy access to primary care or specialist services. The availability of telehealth services to these areas provides better access to health care by eliminating the need to travel long distances to see an expert health care professional. One of the most important benefits of telehealth is in the reducing costs due to lowering in hospitalizations, readmissions, and length of stays.
Increasing prevalence of chronic diseases and rising healthcare cost drives the demand for telehealth solutions. In addition, increasing healthcare expenditures, the rapid increase in the software market, improving telecommunication infrastructure supplements the growth of telehealth market within the forecast period. Furthermore, telehealth market is on the rise due to improvements in technology that enables the healthcare professionals to see patients on screen from a distant location. According to the National Business Group on Health (NBGH), 74 percent of large U.S. employers say they plan to offer telehealth services were permitted under the law, an increase from 48% in an earlier survey. This suggests that telehealth usage is going to rise rapidly. However, lack of proper reimbursement policies, the high cost of technology and underdeveloped interoperability standards hampers the adoption of telehealth market within the forecast period. In spite of these restraints, technological advancements to produce more innovative telehealth solutions can be an opportunity in this market.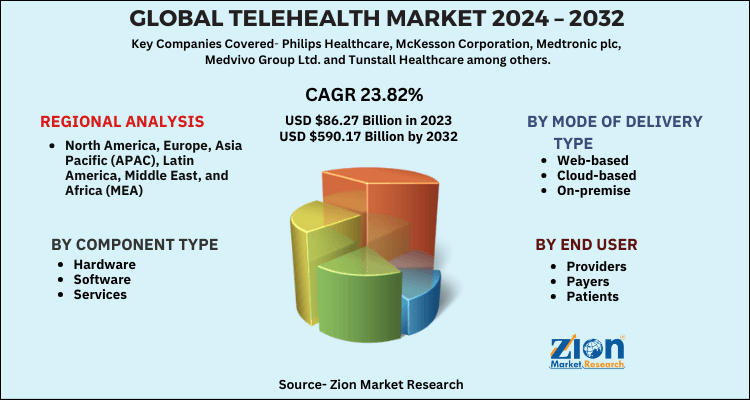 On the basis of the component, the global telehealth market is categorized into; hardware, software, and services. In this segment, hardware held around more than 45.5% market share in 2016 and is expected to grow at a double-digit CAGR in coming five years. The software is expected to witness a significant growth within the forecast period owing to advancements in telecommunication infrastructure coupled with increasing adoption of remote monitoring solutions by patients in rural locations.
An end-user segment of the telehealth market includes the: providers, payers, patients and other end users. In this segment, players have accounted for the second largest market share of the global telehealth market in 2016 and are expected to grow at a significant rate of CAGR in coming five years. In this segment, providers include the healthcare professionals such as physicians and clinicians, hospitals, and clinics.
North America has dominated the global telehealth market by accounting for 41.4% of market share in 2016 and is expected to grow at a CAGR of around 29.9% in coming five years. U.S. holds the largest market share in telehealth market in this region owing to the paucity of an adequate number of healthcare professionals, upcoming regulatory policies, and geriatric population. In Canada, 77 percent of primary care physicians are now using electronic medical records, 98 percent of hospitals offering telehealth video conferencing and 88 percent of lab test results are now digital.
North America is expected to follow by the Europe within the forecast period owing to increasing adoption of digital healthcare systems. In this region, U.K. attributed for largest market share owing to the aging population (11.4 million people in the UK are aged over 65) favorable government policies regarding telehealth and high telecare penetration.
Asia-Pacific is expected to show the fastest growth with a CAGR of 35.6% within the forecast period. Telehealth market growth in this region is expected to drive by increasing geriatric population and high internet penetration. In this region, For example, Japan has a large Health IT market size (around $4 billion), a significantly aging population, a high concentration of population clustered in urban areas and a tech-friendly society thus all these factors supplements the telehealth market growth.
Latin America is expected to show a moderate growth due to increasing awareness among healthcare professionals related to the benefits of telehealth. In this region, Brazil has a high growth rate in the over-60 population over the next 15 years, indicating that a huge potential telehealth market in coming five years. The Middle East and Africa, market growth for telehealth is expected to boost by increasing prevalence of chronic diseases coupled with the scarcity of healthcare professional.
The report presents comprehensive competitive outlook with company profiles of the key players operating in the global market. Key participants profiled in the report include Philips Healthcare, McKesson Corporation, Medtronic plc, Medvivo Group Ltd. and Tunstall Healthcare among others.