Analysis
Advanced wound care therapies are used to treat chronic wounds where standard wound care therapy is ineffective. Standard wound care therapy refers to the generally accepted wound care procedure. Small wounds are healed naturally with little care. Some chronic and complex wounds are difficult to heal and are very painful and can result in severe complications such as amputation, unbearable pain, and depression. Thus advanced wound therapy plays an important role in treating chronic and complex wounds. Advanced wound care therapies assist in rapid healing and recovery of wounds. Also provide cost effectiveness and help to prevent recurrence. Advanced wound therapies are developed rapidly in recent years with the emergence of new technology. As per WHO's Wound and Lymphoedema Management Report, each year, in North America, between 5 and 7 million chronic and/or complex wounds occur and billions of dollars each year are spent to care and treat these wounds. The chronic wound care management has become of prime importance owing to increase in a number of aging population and increased incidences of chronic diseases such as diabetes. Different types of wound care procedures are practiced based on wound type.
Increasing incidences of chronic diseases such as diabetes are expected to be the major driver for advanced wound care management market. In addition, increasing aging population, technological development, and increase in surgical procedures are expected to trigger the growth of advanced wound care management products in the coming years. However, high treatment cost and reluctance of healthcare professionals and/or patients in accepting new therapies may pose the challenge to advanced wound care management market. Nevertheless, the funds and grants from the government for increasing focus on the need for rapid healing and vast product range in wound care management are expected to act as an opportunity along with for advanced wound care management market in near future.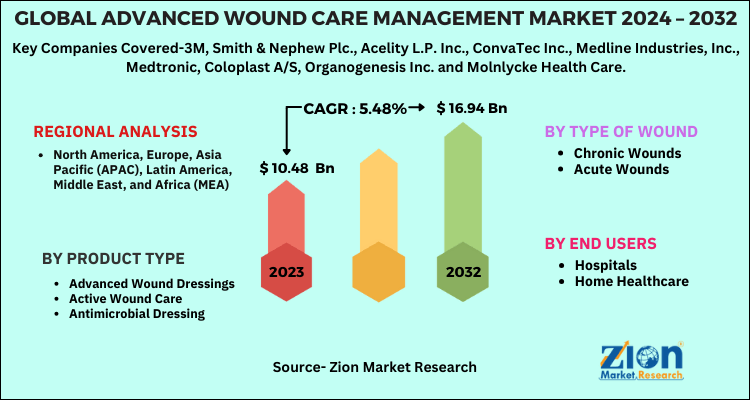 Based on product type, advanced wound care management market is segmented into advanced wound dressings, active wound care, and antimicrobial dressings. Advanced wound dressings are segmented into foam dressings, hydrocolloid dressings, Hydrofiber dressings, film dressings, alginate dressings, hydrogel dressings, collagen dressings and active wound care is segmented as artificial skin and skin substitutes, growth factors. Depending upon the type of wound, the market is segmented as chronic wounds and acute wounds. Chronic wounds further segment into diabetic foot ulcers, pressure ulcer, venous leg ulcer and arterial ulcer whereas acute wounds as burns, surgical and traumatic wounds. Based on the end user, the market is segmented into hospitals, home healthcare and others (private nursing home, pharmacies).
North America is expected to remain the dominant region over the forecast period. Increasing healthcare awareness is expected to boost the market in this region. Europe was the second largest market followed by Asia-Pacific. North America is expected to show fastest growth rate during the forecast period while Asia-Pacific market is projected to grow at a moderate rate during the forecast period. The Middle East and Africa, and Latin America are also expected to experience noticeable growth in the years to come.
Some of the key players in advanced wound care management market are 3M, Smith & Nephew plc., Acelity L.P. Inc., ConvaTec Inc., Medline Industries Inc., Medtronic, Coloplast A/S, Organogenesis Inc. and Molnlycke Health Care.