Analysis
Biomarkers are usually biological indicators of some biological condition or state and often are measurable. A biomarker is anything that can be used as an indicator of a particular disease state or some other physiological state of an organism. Biomarkers are usually measured to assess normal physiological processes or pharmacological responses to therapeutic intervention. Genomic biomarker could be a measurement of gene expression, gene function, and gene regulation. Genomic biomarkers are used to measure DNA or RNA characteristics, such as single nucleotide polymorphisms, DNA modifications (methylation), short sequence repeat variability, deletions or insertions in the sequences, copy number variations, cytogenic rearrangements such as translocations, duplications, deletions or inversion, RNA expression, RNA processing (splicing, editing), microRNA expression levels etc.
The genomic biomarkers are not only useful for human DNA or RNA expression levels but also can be used for applications in nonclinical and toxicological samples such as viruses, infectious agents, animal samples etc. Various life-threatening diseases such as cardiovascular diseases, cancer, and neurological disorders pose a great potential risk of death, thus early diagnosis and treatment of such disorders using biomarkers as personalized medicine offer advantage over traditional methods of diagnosis and treatment.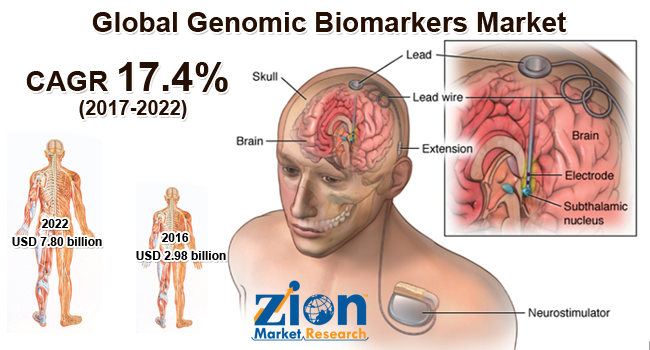 As per World Health Organization, cardiovascular diseases are number one cause of death worldwide. About 17.5 million people died from CVDs in 2015 representing 31% of all global deaths. Also, according to the American Cancer Society, cancer is the second most common cause of death in the U.S. and accounts for nearly 1 of every 4 deaths. As per World Health Organization estimates, worldwide, there were 14 million new cancer cases in 2012 and 8.8 million cancer-related deaths in 2015. Globally, nearly 1 in 6 deaths is due to cancer. Up to 1 billion people, nearly one in six of the world's population, suffer from neurological disorders. Also, the global burden of these disorders is increasing owing to increasing geriatric population base across the world. Thus, genomic biomarkers market has vast potential in terms of large patient pool and need for personalized medicines.
Increasing prevalence of lifestyle associated life-threatening diseases such as cardiovascular diseases, cancer, neurological disorders across the globe is expected to be the major driver for the global genomic biomarkers market. In addition, need for genomic biomarker-based personalized medicines coupled with increasing awareness and acceptance of personalized medicines among patients is expected to trigger the growth of global genomic biomarkers industry in the coming years. However, high cost and complex development process coupled with stringent government regulations may pose the challenge to genomic biomarkers market. Nevertheless, growing awareness about advantages of personalized medicines coupled with a huge investment in research and development of genomic biomarkers across the globe is expected to act as an opportunity for genomic biomarkers market in near future.
Based on the indication, genomic biomarkers market has been segmented into oncology, cardiovascular diseases, neurological diseases and others. Oncology segment holds a maximum share of global genomic biomarkers market followed by cardiovascular disease segment.
Based on the end user, genomic biomarkers market is classified into hospitals, diagnostic & research laboratories, and others. Diagnostic and research laboratories segment holds maximum share and is expected to boost the market over the forecast period.
North America is expected to remain the dominant region over the forecast period. Developed healthcare infrastructure, favorable government policies and research grant are expected to boost the market in this region. Europe was the second largest market followed by the Asia Pacific. The Asia Pacific is expected to show fastest growth rate during the forecast period while Latin America market is projected to grow at a moderate rate during the forecast period. Low cost of clinical trials and large population base in the Asia Pacific region, especially India, China, and Japan are the driving factors for the growth of the genomic biomarkers market in this region. The Middle East and Africa are also expected to experience noticeable growth in the years to come.
Some of the key players in genomic biomarkers market include Thermo Fisher Scientific, Roche Diagnostics, Myriad Genetics, QIAGEN, Bio-Rad Laboratories, US Biomarkers Inc., Almac Group and Epigenomics AG among others.