Description
The report covers forecast and analysis for the general anxiety disorder market U.S. region. The study provides historic data of 2014 along with a forecast from 2015 to 2020 based on revenue (USD Million). The study includes drivers and restraints for the general anxiety disorder market along with the impact they have on the demand over the forecast period. Additionally, the report includes the study of opportunities available in the general anxiety disorder market on a U.S. level.
In order to give the users of this report a comprehensive view on the general anxiety disorder market, we have included a detailed competitive scenario and product portfolio of key vendors. To understand the competitive landscape in the market, an analysis of Porter's five forces model for the general anxiety disorder market has also been included. The study encompasses a market attractiveness analysis, wherein therapeutics segments are benchmarked based on their market size, growth rate, and general attractiveness.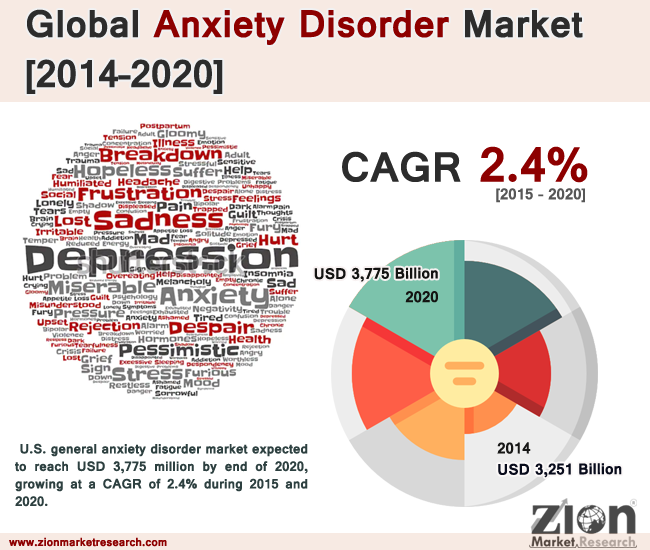 The study provides a decisive view on the general anxiety disorder market by segmenting the market based on therapeutics segment. Key therapeutics markets covered under this study includes antidepressant, benzodiazepines and others.
The report segments the U.S. general anxiety disorder market into:
U.S. General anxiety disorder Market: Therapeutics Segment Analysis
Antidepressant
Benzodiazepines
Others (Buspirone)
Table Of Content
Chapter 1 Preface

1.1 Report description
1.2 Research scope
1.3 Research methodology

1.3.1 Market research process
1.3.2 Market research methodology

Chapter 2 Executive Summary

2.1 U.S. General Anxiety Disorder Market, 2014 - 2020 (USD Million)
2.2 U.S. General Anxiety Disorder Market: Snapshot

Chapter 3 General Anxiety Disorder Market – Therapeutics Segment Analysis

3.1 U.S. General Anxiety Disorder Market Overview: By Therapeutics

3.1.1 U.S. general anxiety disorder market revenue share, by therapeutics, 2014 & 2020

3.2 Antidepressant

3.2.1 U.S. general anxiety disorder market for antidepressant, 2014 – 2020 (USD Million)

3.3 Benzodiazepines

3.3.1 U.S. general anxiety disorder market for benzodiazepines, 2014 – 2020 (USD Million)

3.4 Others

3.4.1 U.S. general anxiety disorder market for others therapeutics, 2014 – 2020 (USD Million)
Methodology
This report is based on in-depth qualitative and quantitative analyses of the global General Anxiety Disorder market. Zion Research has collected and analyzed key data belong to the global General Anxiety Disorder market using a variety of methods. Quantitative analysis has been done following various projection and sampling techniques.
The qualitative analysis involved primary interviews, surveys, and vendor briefings. The data gathered as a result of these processes were validated through experts' opinions. The market dynamics have been determined after conducting a detailed study of the micro and macroeconomic indicators of the market.
Various parameters have been taken into account while estimating market size. The revenue generated by the leading industry participants in from the sales of General Anxiety Disorder across the world has been calculated through primary and secondary research.
Zion Research employs the combination of secondary research followed by extensive primary research. Under secondary research, we refer to prominent paid as well as open access data sources including product literature, company annual reports, government publications, press releases, industry association's magazines and other relevant sources for data collection. Other prominent secondary sources include STATISTA, trade journals, trade associations, statistical data from government websites, etc.
For this study, Zion Research has conducted all-encompassing primary research with key industry participants to collect first had data. Moreover, in-depth interviews with key opinion leaders also assisted in validation of findings from secondary research and to understand key trends in the General Anxiety Disorder industry. Primary research makes up the major source of data collection and validation.
Primary Research
We conduct primary interviews with industry participants and commentators on an ongoing basis to validate data and analysis. A typical research interview fulfills the following functions:
Provides firsthand information on market size, market trends, growth trends, competitive landscape, outlook, etc.
Helps in validating and strengthening the secondary research findings
Further, develops the analysis team's expertise and market understanding
Primary research involves e-mail interactions, telephonic interviews as well as face-to-face interviews for each market, category, segment and sub-segment across geographies
Participants who typically participate in such a process include, but are not limited to:
Industry participants: CEOs, VPs, marketing/product managers, market intelligence managers and national sales managers
Purchasing managers, technical personnel, distributors and resellers
Outside experts: Investment bankers, valuation experts and research analysts specializing in specific markets
Key opinion leaders specializing in different areas corresponding to different industry verticals
Secondary Research
Secondary research sources that are typically referred to include, but are not limited to:
Company websites, annual reports, financial reports, broker reports, investor presentations and SEC filings
IDC and other relevant magazines
Internal and external proprietary databases, and relevant patent and regulatory databases
National government documents, statistical databases and market reports
News articles, press releases and webcasts specific to companies operating in the market
Following a comprehensive secondary and primary research and insights thus gathered, analysts at Zion Research have provided an in-depth analysis of various aspects of the General Anxiety Disorder market.
Models
Where no hard data is available, we use models and estimates to produce comprehensive data sets. A rigorous methodology is adopted, wherein the available hard data is cross-referenced with the following data types to produce estimates:
Demographic data: Population split by segments
Macroeconomic indicators: GDP, PPP, Per Capita Income, etc.
Industry indicators: Expenditure, technology stage and infrastructure, sector growth and facilities
Data is then cross-checked by an expert panel.
Free Analysis
General anxiety disorder (GAD) is characterized by constant and excessive worrying which is hard to control and lead to considerable impairment or distress. Other psychological symptoms of anxiety include irritability and apprehensiveness, and physical symptoms of anxiety are increased muscular tension and fatigue. Effective treatments for general anxiety disorder are medications and psychotherapy. Psychotherapy includes applied relaxation and cognitive-behavioral therapy among others.
According to anxiety and depression association of America, general anxiety disorder affects 3.1% of the U.S. population or 6.8 million adults, in any given year. U.S. stands for the major regional market for anxiety disorder therapeutics worldwide. Growing geriatric population and rising prevalence of anxiety disorders and depression are some of the key factors to drive the market in the years to come. Currently, U.S. general anxiety disorders market is saturated as a variety of antidepressant drugs are available on prescription for the similar symptom. Presently, general anxiety disorders market is on a decline owing to the weak pipeline of novel drugs, patent expiry of major antidepressants and an increasing number of cheap generic drug variants in the market.
Different therapeutic segments of the general anxiety disorder market include antidepressant, benzodiazepines and other therapeutics. The antidepressant was a major therapeutic segment of general anxiety disorder market and constituted 38.6% share of the total demand in 2014 and is expected to continue its dominance in the market over the forecast period. Numerous kinds of medications employed to treat general anxiety disorder. Antidepressants such as serotonin norepinephrine reuptake inhibitor (SNRI) and selective serotonin reuptake inhibitor (SSRI) classes are the first-line medication treatments. Benzodiazepines (clonazepam, alprazolam, diazepam, and lorazepam) are highly efficient in reducing muscular tension, promoting relaxation and other physical symptoms of anxiety.
General anxiety market is highly competitive in nature owing to the presence of both large and small pharmaceutical companies. Eli Lilly and Company, Sanofi S.A. Forest Laboratories, Inc., Johnson & Johnson H. Lundbeck A/S, Merck & Co., Inc., Pfizer, Inc. are some of the dominant players in the market space.