Analysis
The gas engine is designed for maximum electrical & thermal efficiency, high reliability & availability, and low operation & service costs. The gas engine can be regulated with various types of gas, such as shale gas, natural gas, landfill gas, syngas, and sewage gas among others. Generally, the engine starts by utilizing diesel and later adds natural gas, which ignites rapidly, thus helping in starting the engine. A gas engine is basically an internal combustion engine that generates impulse power by utilizing a variety of gases as fuel. The basic components of a gas engine generator include a heat exchanger, control panel, an engine, and a generator. Natural gas is a versatile, efficient, and clean-burning fuel, which is widely utilized as a fuel in the gas engine.
The gas engine is segmented on the basis of fuel type, end user, and application. On the basis of fuel type, the global gas engine market is segmented into natural gas and others. Natural gas segment held the largest market share due to high demand across the globe. Natural gas is most commonly utilized for power gas engine among the other fuel is the main reason for the largest market share held by the segment. Natural gas restores fuel in a 50% to 70% substitution rate. Toward the end of compression, diesel is injected, and this ignites and helps the natural gas to burn. On the basis of end users, the market is segmented into industrial, residential, utility, and commercial. Utility segment held the largest market share due to rise in replacement of coal-fired power plants with natural gas power plants across the globe. Increasing demand for natural gas, biogas and landfill gas as fuel due to variation in the price of oil is expected to further boost the gas engine market. On the basis of application, the global gas engine market is segmented into co-generation, mechanical drives and power generation. Power generation segment is estimated to account for the largest share of the market in 2016. Due to increasing energy demands for new gas-fired power plants, which in turn, is driving the power generation application segment of the gas engine market.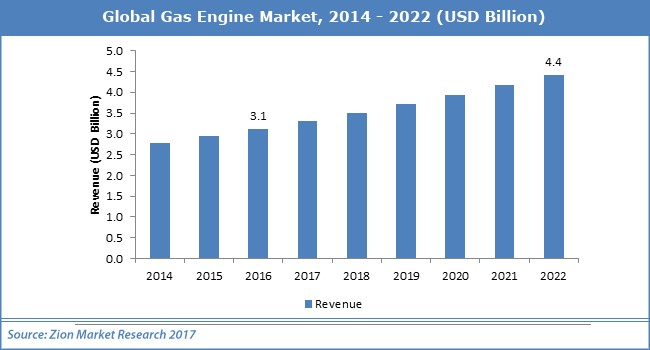 Increasing demand for electricity, fall in natural gas prices and low emission level of natural gas are expected to remain major driving factors for the growth in gas engine market. Gas engine manufacturers depend on global power generation demand which could act as a major restraint for the market. The global gas engine market offers new growth opportunities, due to increasing trend of distributed power generation and growing development towards flexible gas-fired power generation against conditions of an improving global economy. During power outage factors such as environmental rigid pressures on power plants, commercial or industrial boiler substitutes, and growing central and state policymaker support of CHP are expected to boost the demand for gas engine market.
Based on regional segmentation, Europe was the most attractive market for a gas engine in 2016. This growth is attributed to greater use of gaseous fuels in industries such as automobile and power. The growth of the gas engine market in the European region can be certified to the EU's policies to limit the CO2 emission, increased production of biogas as a well-established gas distribution network in the region. In the Middle East, presence of sufficient gas resources and growing investments towards gas-based power generation to meet the rising demand for power in this region will drive the gas engine market
Some of the major players involved in the global gas engine cable market include General Electric Company, Rolls-Royce Holdings plc, Cummins Inc., Caterpillar Inc., Wärtsilä Corporation, Kawasaki Heavy Industries, MAN SE, Deutz AG, Doosan Infracore, and Yanmar.