Analysis
Food wrap films are specially designed wrapping materials that keep the food fresh, protect it from contamination, and enhance its shelf life. These are used for the purpose of short-term food preservation. Additionally, these are used to wrap highly perishable food items, such as confectionaries, processed meat, and seafood along with fast food and ready-to-eat food to preserve their freshness for an extended time. These also provide additional benefits like the safe movement of food products.
The global food wrap film market is likely to grow notably in the future, owing to the consistently rising demand for on-the-go food and with an extended shelf life. Additionally, increasing food consumption, growing demand for various food flavors and beverages, escalating productivity of food wrap film manufacturers are also projected to drive the food wrap film market. However, the higher cost of production against conventional means of food wrapping and detrimental effects on the environment due to plastic wrap films may impede the expansion of the food wrap film market globally. Alternatively, the newly developed market for food delivery services globally has been analyzed as an entirely untapped yet highly potential opportunity for the food wrap film market.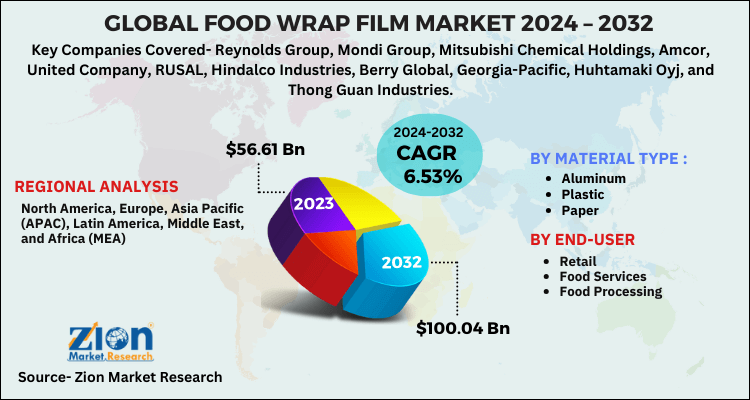 The global food wrap film market is fragmented based on material type and end-user. By material type, the market includes aluminum, plastic, and paper food wrap films. The aluminum segment is dominating the global market for food wrap films, with over 70% market share. While plastic and paper food wrap films hold second and third positions in the market, respectively. Furthermore, plastic food wrap films are projected to take over a major market share of the aluminum segment and will show the fastest CAGR over the forecast period. Paper films will continue with their marginal market share over the projected timeframe. The end-user segment of the food wrap film market is classified into retail, food service, and food processing. The food service segment is expected to account for the highest market share over the forthcoming years.
North America dominates the global food wrap film market and is estimated to retain its market leadership over the forecast time period. The Asia Pacific region will manifest the highest CAGR in the food wrap film market globally in the years ahead, owing to the increasing disposable income of the regional population and growing awareness about nutritious and healthy diet options.
Some major players of the global food wrap film market are Reynolds Group, Mondi Group, Mitsubishi Chemical Holdings, Amcor, United Company, RUSAL, Hindalco Industries, Berry Global, Georgia-Pacific, Huhtamaki Oyj, and Thong Guan Industries.