Analysis
Fog computing is described as fogging or edge computing, which acts as a layer between hardware and data centers of cloud computing and extends cloud capabilities by providing virtualized resources and unified solutions to the network edge.
The fog computing market is gaining global acceptance across large enterprises and small enterprises, owing to its cost-effectiveness feature over cloud computing. Fog computing is used where cloud computing is not a feasible option for IoT. Its distributed approach attends the various needs of industrial IoT and IoT Moreover, transferring data collected by IoT devices and smart sensors to cloud for analysis and processing is a time-consuming and costly process. This is where fog computing can help industries, as it reduces the to and fro communication between cloud and sensors and improves the performance of IoT devices. The fog computing market is also growing notably due to the increasing adoption of the internet of things. Additionally, increased government spending along with rising private investments for the development of IoT and information technology is further expected to propel the fog computing market. Rising trend of smart devices to ease smart grid and upcoming projects, such as smart cities and smart factories, will further the market. Large amounts of data will be generated by these factors and industries will take necessary actions and precautions for data security, which will boost fog computing, as it will not float the data on the cloud but upload only the data that needs processing and analysis. However, the lack of uniform governance standards may hinder the fog computing market over the forecast time period.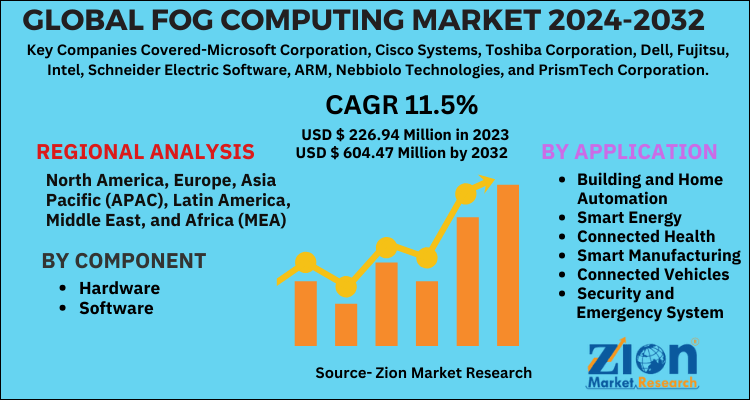 The type segment of the fog computing market is fragmented into hardware and software. The software segment is expected to witness substantial growth over the forecast time period, owing to its various benefits, such as low capital investment as it can store data generated in a local area network and only upload the data that needs processing and reduces the continuous upload time.
North America is anticipated to hold a significant share of the fog computing market globally, owing to the presence of major market players in the region, increasing IoT usage, and rising government spending for technological advancements. The growing adoption of industry 4.0 and the rising demand for connected devices will further boost this regional market.
Some noticeable players of the fog computing market are Microsoft Corporation, Cisco Systems, Toshiba Corporation, Dell, Fujitsu, Intel, Schneider Electric Software, ARM, Nebbiolo Technologies, and PrismTech Corporation.