Analysis
The services provided regarding fertilization to the infertile population are known as fertility services. In these services, the healthcare professionals assist for reproduction through various techniques, such as IVF, ART, surrogacy, and a few others. Increasing infertility ratio is one of the major factors triggering the growth of the fertility services market. Moreover, growing public awareness about infertility and the available treatment options will also boost the market significantly during the forecast period. The decreasing fertility rate in males and females can be due to numerous reasons, such as increasing cases of prostate cancer is one of the leading cause of infertility in males as it requires removal of the prostate gland which leads to infertility.
The global fertility services market is segmented as a procedure, services, end-users, and by geography. Based on the procedure, the market is segmented into assisted reproductive technology (ART), in-vitro fertilization, artificial insemination, surrogacy, and others. The in-vitro fertilization segment is further sub-segmented into intracytoplasmic sperm injection (ICSI) and pre-implantation genetic diagnostics (PGD). The artificial insemination segment is again further segmented into intrauterine insemination, intracervical insemination, and others. On the basis of services, the market is segmented into donor and non-donor. The donor segment is further sub-segmented into fresh donor and frozen donor. The non-donor segment is classified into fresh non-donor and frozen non-donor. The end-user segment is bifurcated into fertility clinics, hospitals, and clinical research institutes.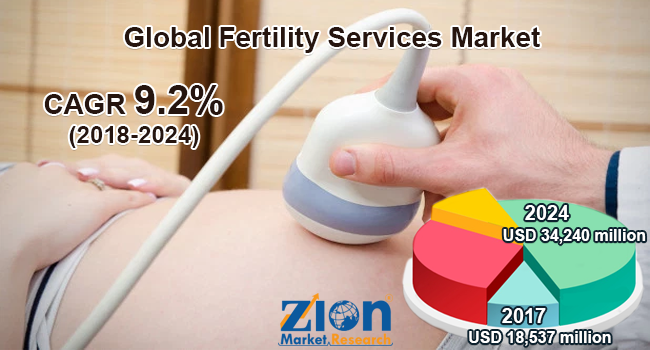 North America held a dominant share of the global market for fertility services in 2017 and is anticipated to continue its dominance in the forthcoming years as well. Advanced healthcare facility, available treatment options, and increasing rate of infertility will drive the market during the forecast period. Followed by North America, Europe is estimated to hold the second largest share in the global fertility services market. Asia Pacific region is expected to grow at the highest CAGR during the forecast period owing to the increasing awareness about infertility, changing lifestyle, and increasing disposable income will fuel the market growth in the region. Moreover escalating research and development expenditure, rising prevalence of PCOS and PCOD, and the decreasing fertility rate is some other factors expected to propel the growth of the fertility services market in the Asia Pacific.
Some of the key players in the fertility services market are CooperSurgical, Inc., Vitrolife, Cook, Care Fertility, Monash IVF, INVO Bioscience, Carolinas Fertility Institute, Fertility Focus Ltd., Apollo Hospitals Enterprise Ltd., Merck, LABOTECT GmbH, and Olympus Corporation. Currently, the market's growth rate is very high, which has encouraged the leading players to focus on consolidation through product licensing and long-term partnerships in order to gain maximum share in the market.