Free Analysis
Facility management service ensures the most efficient delivery of services to organizations. As per the definition of ISO, facility management is the organizational function that incorporates place, process, and people within the environment with the purpose of refining the quality of life of people along with the productivity of the core business. It involves different types of management services, such as management of the facility's space and infrastructure and operations, which involves organization and people. The management of space and infrastructure includes all the aspects beginning from the design planning and facility's construction to its maintenance. The management of people and infrastructure mainly focuses on personal factors, such as work psychology and ease of work, adaptability of all the occupants, etc.
The increasing demand for integrated facility management owing to the growing awareness regarding the benefits associated with the adoption of integrated facility management is expected to boost the growth of the global facility management services market over the forecast time period. Furthermore, the rising concerns regarding corporate social responsibility due to various legislative requirements to decrease ecological footprint is further expected to drive the facility management services market in the upcoming years globally.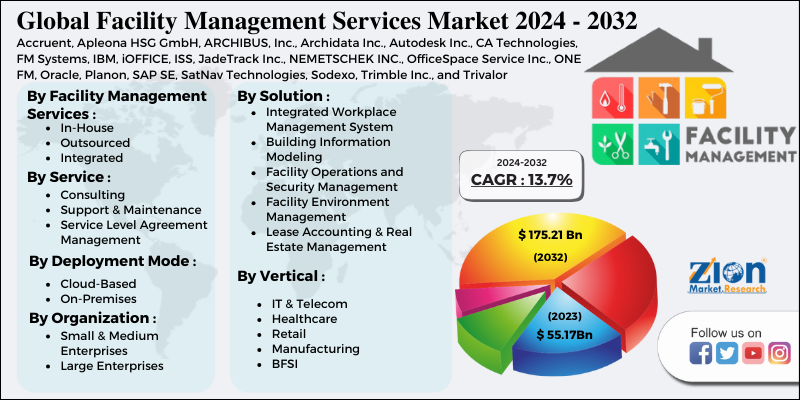 Based on facility management type, the facility management services market includes in-house, outsourced, and integrated. By solution, the market includes integrated workplace management system, building information modeling, facility operations, and security management, facility environment management, and lease accounting and real estate management. By service, the market includes consulting, auditing and quality assessment, support and maintenance, and service level agreement management. By deployment mode, the market is bifurcated into on-premises and cloud-based. By organization facility management type, the market includes large enterprises and small and medium enterprises. By vertical, the facility management services market includes IT and telecom, healthcare, retail, manufacturing, construction and real estate, banking, financial services, and insurance (BFSI), government and public administration, and others.
By region, Asia Pacific held a major share of the global facility management services market in 2018 and the region is expected to show the fastest CAGR over the forecast time period as well. This regional growth can be attributed to the rising industrialization and outsourcing of MNC operations to emerging economies like China and India. The North American facility management services market accounted for a substantial revenue share in 2018 globally.
Some key players operating in the global facility management services market include Accruent, Apleona HSG GmbH, ARCHIBUS, Inc., Archidata Inc., Autodesk Inc., CA Technologies, FM Systems, IBM, iOFFICE, ISS, JadeTrack Inc., NEMETSCHEK INC., OfficeSpace Service Inc., ONE FM, Oracle, Planon, SAP SE, SatNav Technologies, Sodexo, Trimble Inc., and Trivalor.