Free Analysis
Erucamide is a carboxylic acid amide of docosenoic acid. Generally, erucamide is produced by erucic acid. Erucic acid is a mono-unsaturated acid with high melting and boiling points. Erucamide is replaced by oleamide due to its higher melting point and better heat resistance.
The global erucamide market is expected to record a substantial rate of growth in the upcoming years, owing to the rising demand for erucamide to alter the physical characteristics of polyethylene and polypropylene, among other polymers. The growing awareness regarding hygiene and increasing demand for canned foods is propelling the food packaging market. This, in turn, is likely to boost the development of erucamide market across the globe in the upcoming years. Additionally, the growing application of erucamide in printing and dying industry is estimated to drive the global erucamide market growth in the years ahead. Erucamide is widely used as a dispersant in the printing and dying industry. However, the toxic nature of erucamide might hamper the expansion of the erucamide market on a global scale in the forecast time period. Nevertheless, the Middle Eastern and African region is expected to offer new growth opportunities to the players operating in the erucamide market in the upcoming years.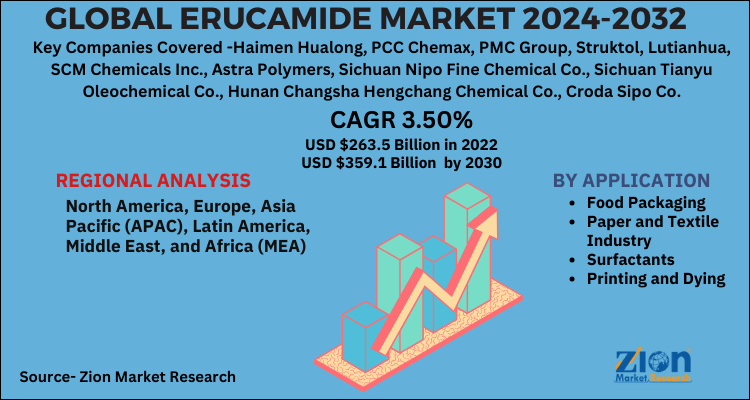 The global erucamide market is classified on the basis of the application into paper and textile, food packaging, printing and dying, surfactants, and others. In the year 2017, the food packaging industry held the largest share of the erucamide market globally and is projected to maintain its leading position in the near future as well. This can be attributed to the increasing usage of erucamide for manufacturing plastic films for the food packaging industry. Additionally, the paper and textile and surfactants industries are estimated to grow significantly in this market across the globe in the upcoming years.
By region, the global erucamide market is segmented into Europe, North America, Asia Pacific, Latin America, and the Middle East and Africa. In 2017, the Asia Pacific region held a major share of the erucamide market and is anticipated to maintain its dominance in the upcoming period as well. This regional domination can be attributed to the growing demand for erucamide due to the region's flourishing food packaging industry. Furthermore, changing lifestyle and the increasing disposable income is fuelling the demand for textiles, which, in turn, is likely to propel the Asia Pacific erucamide market growth in the future. The European and North American regions are projected to grow significantly in the upcoming years, owing to the huge demand for erucamide to produce dye dispersants in the printing and dyeing industry.
Some key players of the erucamide market are Haimen Hualong, PCC Chemax, PMC Group, Struktol, Lutianhua, SCM Chemicals Inc., Astra Polymers, Sichuan Nipo Fine Chemical Co., Sichuan Tianyu Oleochemical Co., Hunan Changsha Hengchang Chemical Co., Croda Sipo Co., BELIKE Chemical Co., and Shanghai Huayi Plastics Auxiliary Cooperation Company, among others.