Analysis
Equine has been used since long for transportation, warfare and farming purposes. Today, they are used as police horses, recreation, racing, and entertainment. Horse serum is used to develop a variety of vaccines and antitoxins to treat several infectious diseases including botulism, rabies, diphtheria, and infection from H5N1 influenza. Equine industry has greater economic effect in countries like United States, Australia, and New Zealand as they generate a huge amount of revenue. American Horse Council reveals that at present there are 9.2 million horses across the nation involving approximately 4.6 million people as horse owners, caretakers, employees, and volunteers.
Equine veterinary practice is expected to be a high overhead owing to prevent the rising diseases like influenza virus, herpes virus, west nile virus, and encephalomyelitis, where the cost for global vaccination is estimated to be around 31 million dollars by the Euro Surveillance Journal in 2016. Rising investments and popularity in alternative forms of gambling like horse racing, online gaming, betting, competitive riding, high return on investment and leisure is expected to drive the global equine healthcare market. Additionally, the growth initiatives by equine healthcare organizations to develop drugs for various diseases are expected to give impetus to the equine healthcare market.
Based on product type the market is segmented into drug type, vaccine type, and supplemental feed additives. The drug type segment is expected to propel the market in the forecast period. Based on disease type the market is segmented into west nile virus, equine rabies, equine influenza, equine herpes virus, potomac horse fever and others category. The equine influenza and herpes virus is expected to drive the market growth among disease type category in the forecast period. Based on distribution channel the market is segmented into veterinary hospitals and clinics, retail pharmacies and drug stores and others category.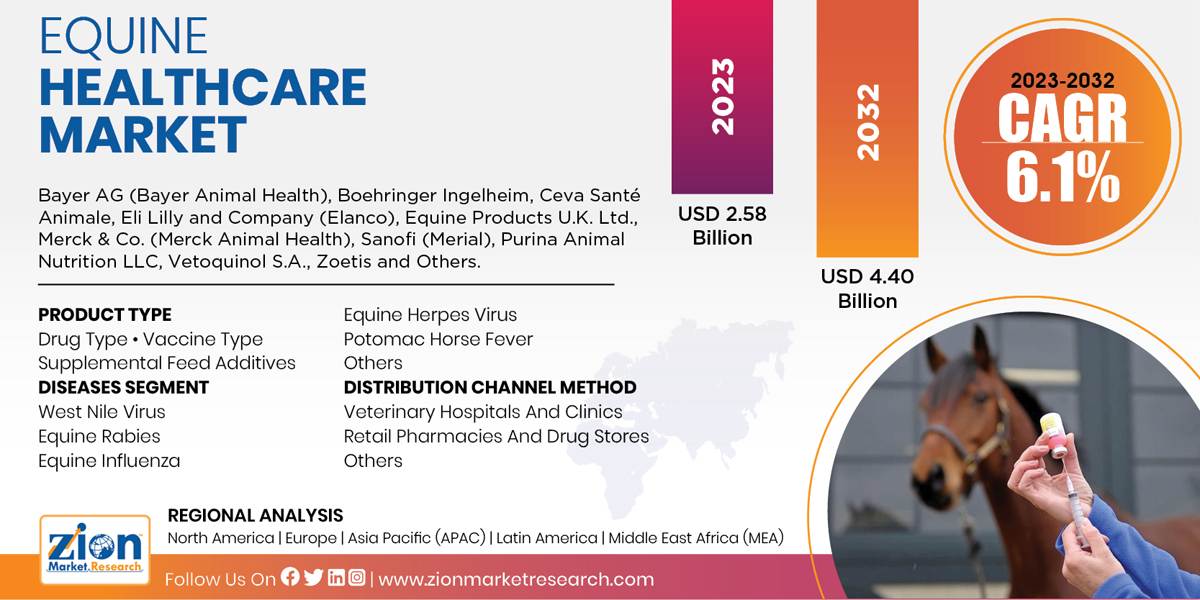 The Australian market is among the leading horse breeding countries of Asia Pacific, hence contributing to the drastically increased demand for healthcare products in the Asia Pacific. Additionally, the maintenance of race-horse breeds by the rising investments from China by specific supplements, therapeutic and protection products is thriving the growth of Asia Pacific market globally. Also, according to a study conducted by the American Horse Council, U.S. has 9.2 million horses with $39 billion direct economic impacts. Also, a total 22,849 horses were imported into the U.S. in 2013, thereby increasing the demand of equine healthcare in North America.
Some of the key players in the equine healthcare market are Bayer AG (Bayer Animal Health), Boehringer Ingelheim, Ceva Santé Animale, Eli Lilly and Company (Elanco), Equine Products U.K. Ltd., Merck & Co. (Merck Animal Health), Sanofi (Merial), Purina Animal Nutrition LLC, Vetoquinol S.A., and Zoetis.