Analysis
Embedded system, an electronic system is embedded in computer hardware and operates through software. Depending upon the application, it can be programmable or nonprogrammable. It is a system that performs single or multiple tasks as per a certain set of rules. In these kinds of systems, all the units get assembled and work together as per the program. Embedded systems are installed in many products such as cameras, automobiles, printers, washing machine, microwave ovens, etc. These systems use microcontrollers, microprocessors, and processors such as DSPs.
Embedded systems are majorly used in automobile and telecommunication industries. Its application in the industries is related to robotics in assembly line, mobile networking and computing, mobile access, multimedia and entertainment in car, body and engine safety, and cruise control system. In the last two decades, frequent information waves and technical transformation have propelled the telecom industry. "Internet of Things" has opened new opportunities in the sector, describing a unique blueprint for IT and telecom industries. Until 2020, it is projected that the ratio between human type communications to machine type communication will reach 1:30 that will help operators to enhance their subscriber base to 50 billion from 6 billion people. Furthermore, mobile broadband is contributing significantly to the industry's development. Mobile broadband is entering into a golden age of development that is bringing the human race to a new level of ubiquity.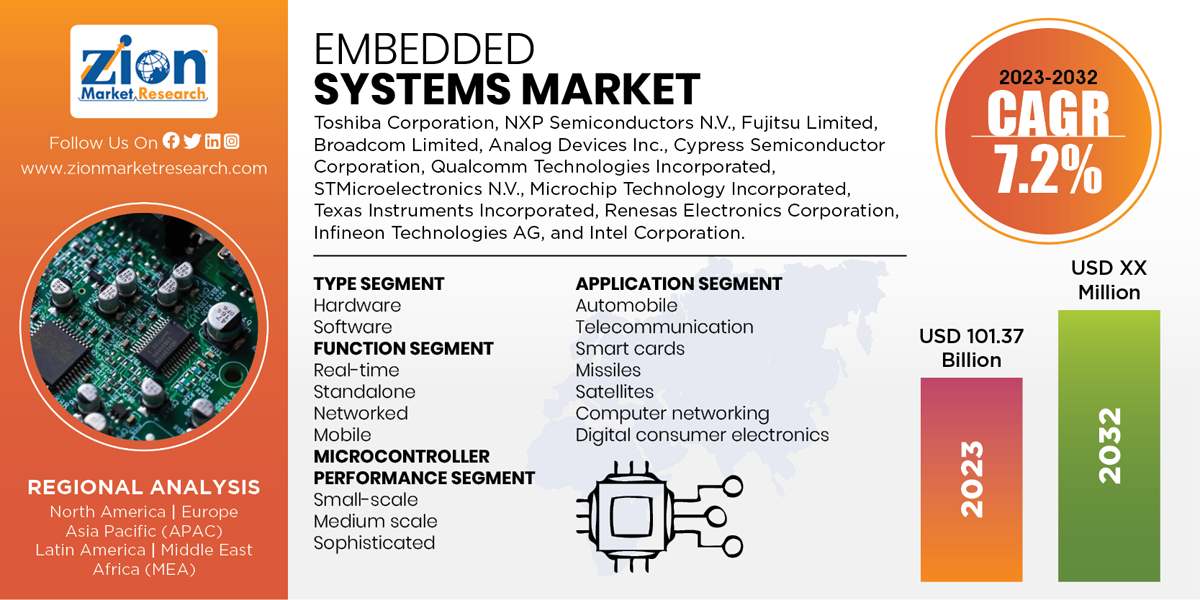 Cloud computing is bringing new opportunities to the field of telecommunication. The popularity of broadband has given a base to cloud computing. The technology is overturning the conventional business model of media, hardware, and software. Users are switching to "buying services" from "buying products". Cloud computing is projected to be a vital factor for telecom operators for their business development to realize extending network value.
The automotive industry has grown substantially in past few years. Many new markets have opened several opportunities and made their way through innovations. Considering the innovations taking place daily, industries and business models are subjected to rapid change, disruption, and growth. Globalization in the automotive industry has tremendously accelerated in the second half of 1990 owing to the establishment of mergers amongst key multinational manufacturers and construction of crucial overseas facilities. In 2015, nearly 72 million cars were sold globally and around 68 million cars were manufactured. The global automobile industry has registered significant transformation in the past two decades along with digitization of vehicles.
Global embedded systems market in terms of type is bifurcated into hardware and software. As per functions, global embedded systems market is classified as real-time, standalone, networked, and mobile. Various microprocessor performances in the global embedded systems are sophisticated, medium scale, and small scale. Applications of global embedded systems market are automobiles, telecommunication, digital consumer electronics, computer networking, satellites, missiles, and smart cards. The automotive application would contribute significantly to the global embedded systems market over the forecast timeframe. Embedded systems are deployed for safety, infotainment, and engine control in vehicles. Rising demand for vehicles equipped with the car to road communication and navigation capabilities will fuel the segment demand.
Regional segmentation of global embedded systems includes North America, the Middle East & Africa, Latin America, Europe, and the Asia Pacific. The Asia Pacific will witness the fastest pace in the global embedded systems market between 2018 and 2024 owing to numerous trained professionals indulged in software development of the technology. Additionally, boosting a number of fabrication plants that includes "Taiwan Semiconductor Manufacturing Company" is helping to lower the manufacturing cost of the hardware components of the system.
Key players in the global embedded systems market are Toshiba Corporation, NXP Semiconductors N.V., Fujitsu Limited, Broadcom Limited, Analog Devices Inc., Cypress Semiconductor Corporation, Qualcomm Technologies Incorporated, STMicroelectronics N.V., Microchip Technology Incorporated, Texas Instruments Incorporated, Renesas Electronics Corporation, Infineon Technologies AG, and Intel Corporation