Analysis
An elevator is used for lifting people to upper floors within a building. They are a standard part of the commercial or residential buildings. It is a type of vertical transportation which moves people and goods among floors of the building. The residential elevators are low-speed elevators which are considered for lifting luxury item in a home. Residential elevators are expensive to install as it requires to be built within the home. The key factor responsible for the market growth is that it saves time and is energy efficient. In old age, people find it difficult to climb stairs thus elevators are a good option for them. The ultra-modern elevators are mostly made for commercial buildings which can travel at a high speed. This is projected to boost the elevators market growth over the forecast period.
The global elevators market will witness a substantial growth in the coming years. The global elevators market is segmented on the basis of type, machinery type, and end user. Based on the product category, the elevators market is classified as smart elevators and conventional elevators. Smart elevators reduce waiting time. Based on the machinery type, the global elevators market is categorized into traction and hydraulic. By end user, elevators market is segmented into residential, industrial, commercial, and government institutional. The market growth is mainly driven by increasing demand for energy efficient systems across the world. Therefore, the elevators market may gain more value share in the coming years.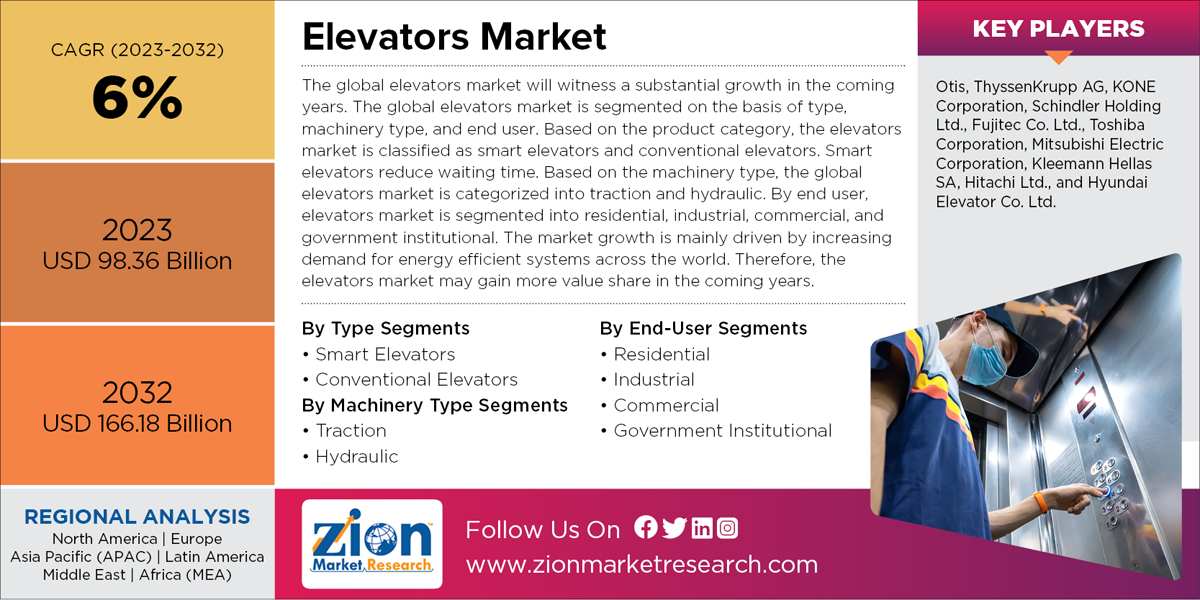 By geography, the elevators market finds its market scope in North America, Europe, Asia Pacific, Latin America, and the Middle East & Africa. North America region is expected to be the fastest growing region owing to the facts such as a high rise in buildings in metropolitan areas which fuels the growth of the global elevators market. The Asia Pacific holds the prominent market share due to the growing building and construction sector. The rapid development of infrastructure and commercial buildings in emerging economies such as China and India increases the elevators adoption in these regions in the coming years.
Increasing the level of safety to meet the quality standards has become the main concern for the elevators manufacturers. The report includes detailed profiles of key players operating in the global elevators market such as Hitachi Ltd., KONE Corporation, Otis, Schindler Holding Ltd., Fujitec Co. Ltd., Mitsubishi Electric Corporation, Toshiba Corporation, Kleemann Hellas SA, ThyssenKrupp AG, and Hyundai Elevator Co. Ltd. The in-depth description of the company includes parameters such as company key developments, overview, business strategy, and financial overview of the company.