Analysis
Electronics contract manufacturing services are referred to as the outsourcing of manufacturing facilities to the EMS providers. EMS providers are companies that manufacture electronic products or devices on a contractual basis for OEMs (Original Equipment Manufacturers). In contract manufacturing, OEMs approach EMS companies with design and specification of different electronic products that need to be manufactured and EMS providers quote the required labor cost, material, tooling, and other services for the hiring firm.
The constantly evolving electronics industry is gathering the required momentum for contract manufacturing business across the world. There are numerous factors anticipated to drive the electronics contract manufacturing services market. These include the increasing demand for various consumer electronic products including high-end gaming PCs, home appliances, and computer hardware. Contract manufacturing companies do not limit their contracts to manufacture goods for a single hirer or OEM only. They offer their services to multiple OEMs, which helps them in procuring raw materials and other resources in large quantities at lower prices, thereby increasing the scope of profit for the EMS provider. The electronics contract manufacturing services are also paving their way in the non-technical verticals, such as healthcare, telecommunications, aerospace, and defense, which is projected to drive the global electronics contract manufacturing services market in the future. For instance, in 2017, Pegatron, a leading Taiwan-based EMS provider, was tapped by Tesla Motors to manufacture control computers for Tesla's Model 3 electric vehicle in-dash infotainment system. However, as the lack of control over production and quality concerns related to the manufactured products may hamper the global electronics contract manufacturing services market in the future. Contract manufacturing helps OEMs in unraveling new growth opportunities for market growth.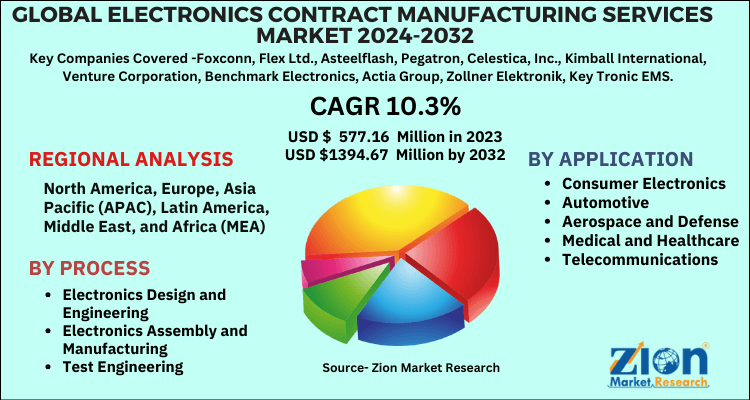 The global electronics contract manufacturing services market is segmented on the basis of process and application. The process segment is divided into electronics design and engineering, electronics assembly and manufacturing, test engineering, and others (supply chain management services and rework services). The electronics design and engineering segment is anticipated to hold a significant market share in the future. The application segment is segmented into consumer electronics, automotive, aerospace and defense, medical and healthcare, telecommunications, and others. The telecommunications industry is anticipated to hold a substantial market share over the forecast time period.
By region, Asia Pacific is likely to register a notable growth in the global electronics contract manufacturing services market in the future, owing to the high adoption of electronics contract manufacturing services model by major countries, such as China, South Korea, India, Taiwan, and Japan. Taiwan is projected to hold a significant share of this regional market.
Some key participants operating in the global electronics contract manufacturing services market are Foxconn, Flex Ltd., Asteelflash, Pegatron, Celestica, Inc., Kimball International, Venture Corporation, Benchmark Electronics, Actia Group, Zollner Elektronik, Key Tronic EMS, Sanmina Corporation, and Jabil.