Analysis
Unmanned aerial vehicles, also known as drones, are small aircrafts that don't have a human pilot on board that can either operated remotely or automated and travel with the help of GPS coordinates. They are made of light material to reduce weight, which enables them to fly at high altitudes. Drones are controlled by a ground cockpit and can easily return to their marked starting position in case of low battery or when the drone loses contact with the controller. Initially, these were used for photography and videography; however, these are used for applications in the supply chain of the modern world. Drones are considered to revolutionize the supply chain. Modern day markets are highly competitive and the emergence of several ecommerce companies has compelled them to deliver goods as fast as possible.
In this constantly evolving world entrepreneurs and visionary leaders are focusing on integrating drone delivery in the supply chain. This is the primary growth factor of the drone logistics and transportation market, as including drones in the supply chain is believed to revolutionize the way shipments reach the customers. It will be the fastest way to transport and has the potential to deliver orders within minutes. Drones will have a diverse range of impact on the supply chain. Drones can track inventory and act as a significant system for inventory management, which will reduce the inventory carrying cost of the companies. Around 90% of the inventory of a warehouse is stationary and companies end up with extra inventory due to improper management. However, it is often difficult even for planes to fly in extreme weather conditions like snow, rain, and strong winds. Drones are smaller versions of these flying machines and could pose a major challenge for delivery during extreme climatic conditions, which might imply that drones can deliver only in certain climatic conditions. This is major restraint for the drone logistics and transportation market.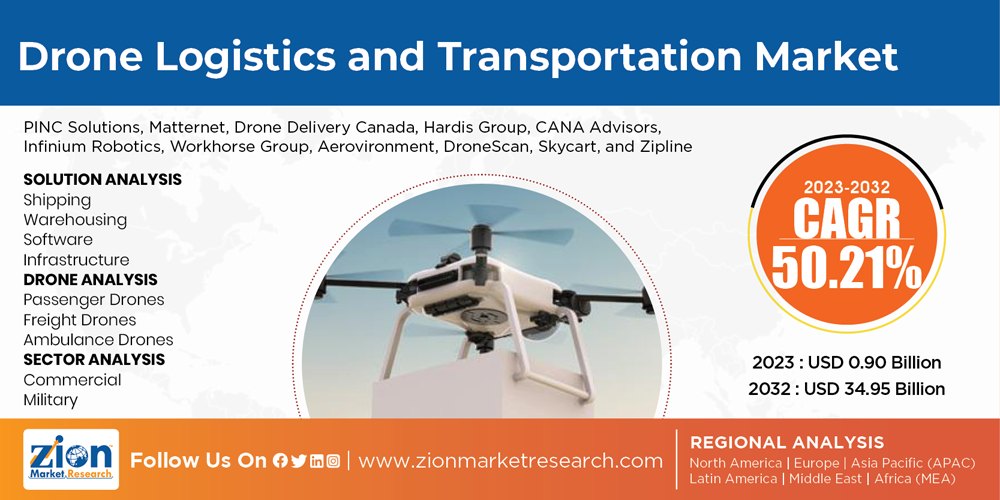 By solution, the shipping sector is expected to hold the highest market share. Drone shipping has been targeted by various companies like Amazon, Google, UPS, DHL, etc. Shipping refers to using drones for delivery of goods, medicines, and other important commercial and personal supplies. Manual inventory management (warehousing) is an expensive process that is time consuming in nature. It also needs a huge labor force considering the growing size of warehouses in the modern day business. A simple drone can solve all these problems very easily, which will drive the warehousing segment's growth in the future.
North America will hold a substantial share of the drone logistics and transportation market in the future, owing to the various developments and innovations witnessed in the inventory management domain. The U.S. is witnessing continuous growth in tech start-ups every year, which is backed by numerous venture capitalists, thereby increasing the regional market scope. The presence of key market players is also predicted to accelerate the demand for drone logistics and transportation market. In Europe, the presence of developed economies of the UK, Germany, and France is contributing to the drone logistics and transportation market.
Some major key players operating in drone logistics and transportation market are PINC Solutions, Matternet, Drone Delivery Canada, Hardis Group, CANA Advisors, Infinium Robotics, Workhorse Group, Aerovironment, DroneScan, Skycart, and Zipline.