Analysis
Distributed temperature sensing systems are optoelectronic devices which measure temperatures by means of optical fiber operating as linear sensors. Temperatures are documented along optical sensor cable, not at points, but as a continuous profile. The significant accuracy of temperature determination is obtained over immense distances. Usually, the DTS systems locate the temperature to a spatial resolution of 1m with accuracy to within ±1°C at a resolution of 0.01°C. Measurement distances which are more than 30 km can be monitored and some of the specialized systems can also provide even tighter spatial resolutions.
Increasing rules and regulations pertaining to safety standards is the major factor expected to boost the demand of distributed temperature sensing market in coming years. High reliability and wide coverage of distributed temperature sensing systems are foreseen to push demand for DTS system significantly. In addition, increasing demand from oil & gas applications as monitoring techniques are extremely helpful in harsh working conditions such as negative temperatures and extremely high temperatures in desert areas, will; spur the market growth. Further, increasing demand for sophisticated functionalities in industrial applications and deployment of power-efficient and miniaturized sensors in various industrial applications are some of the factors projected to promote the growth of distributed temperature sensing the market. Brownfield operations have increased significantly worldwide where older facilities and sites are used for developing new structures. This also expected to favor the market growth during the years to come. However, technical difficulties may limit the growth of distributed temperature sensing market. Nonetheless, increasing safety norms and supportive government policies is expected to open up alluring opportunities for distributed temperature sensing market in the analysis period.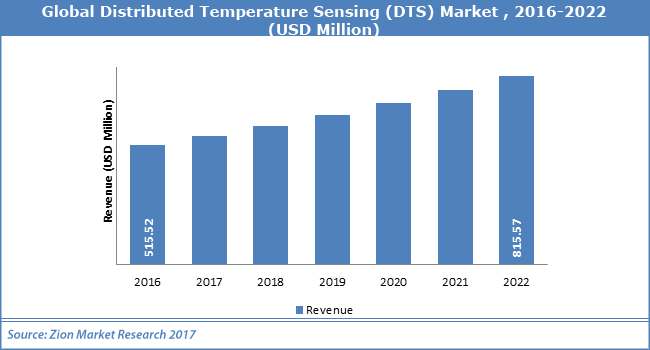 Based on operating principles, the global distributed temperature sensing market is bifurcated into optical time domain reflectometry (OTDR) and optical frequency domain reflectometry (OFDR). OTDR is the most broadly used technology and has been in use since the beginning of DTS systems. OTDR-based DTS systems support to provide a robust measurement and are less susceptible to issues such as reflections and bends in the fiber and accessories. Single-mode fiber and multi-mode fiber is the fibers type segment of DTS market. Based on application, the global DTS market bifurcated into oil & gas, power cable monitoring, fire detection, process & pipeline monitoring and others application. Oil and gas application is predicted to hold the largest market size of global DTS market throughout the analysis period.
Asia Pacific distributed temperature sensing market is expected to show lofty growth on account of significant demand from application sectors such as oil & gas and power cable monitoring. Latin America along with Middle East & Africa are expected to witness significant growth over the analysis period owing to demand from oil and gas application segment. Demand from process & pipeline monitoring applications segment will drive the growth of DTS market in North America region.
The key dominant players operative in global distributed temperature Sensing market includes Schlumberger N.V., Halliburton Company, Omicron Electronics, LIOS Technology GmbH , Bandweaver Technologies, Sumitomo Electric Industries Ltd., Sensornet Ltd., Yokogawa Electric Corporation, Furukawa Electric Co. and Weatherford International PLC amongst others.