Analysis
Dietary supplements include vitamins, minerals, herbals, amino acid and various other products. Dietary supplements come in a number of forms such as capsule, powder, tablets, energy bars, and drinks. Popular dietary supplements include vitamins D and E; minerals like calcium and iron; herbs such as Echinacea and garlic; and specialty products like glucosamine, probiotics, and fish oils.Some dietary supplements are beneficial for overall health. For instance, calcium and vitamin D are important for keeping bones strong and reducing bone loss and folic acid decreases the risk of some birth defects.
The worldwide market for dietary supplements is expected to grow at a significant rate owing to rising awareness towards calorie reduction and weight loss. Furthermore, increasing the importance of proteins among consumers in emerging markets including India and China on account of implementation of new marketing campaigns for brand promotions by companies Pfizer and Amway is expected to boost the market within the forecast period.Additionally, increasing the dominance of fitness and sports along with new product launches is likely to have a significant impact on the industry in near future.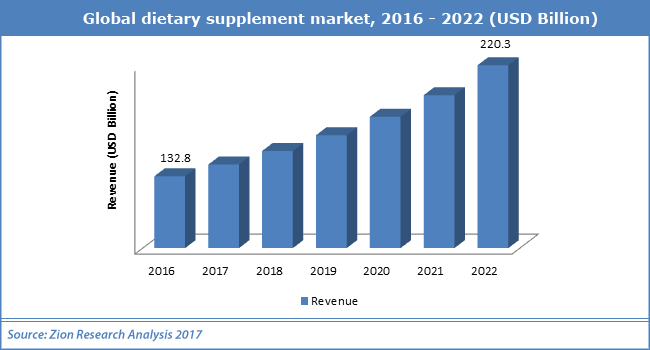 Global dietary supplements market has been segmented on the basis of the ingredient, application, and region. On the basis of the ingredient, dietary supplements market is classified into botanicals, vitamins, minerals, amino acids, enzymes. In 2016, vitamin was the largest ingredient segment in the dietary supplement market owing to their ability to be readily excreted by kidneys. Botanical extracts are expected to grow at fast in coming years due to rising prominence of herbs for the prevention of physical as well as mental disorders in the human body.
On the basis of the application, the market is classified into an additional supplement, medicinal supplement, sports nutrition applications. Additional supplements held the largest market share in 2016 owing to rising awareness towards weight loss and maintenance of a healthy lifestyle among adults and old-aged people in emerging countries. Sports nutrition application segment also registers a considerable growth in the forecast period. Growing demand for energy drinks prepared with egg and whey protein among sports professionals is expected to augment dietary supplements consumption over the next few years.
Asia-Pacific was the largest market accounting for a significant share of the total market in 2016. Increasing disposable income, rising consumer expenditure towards nutritional fortification and growth of retail channels are expected to be the major driving factors for dietary supplements market in developing countries including India, Thailand, and China. Furthermore, the introduction of e-commerce portals in the region is expected to have a positive impact in the years to come.
Major dietary supplements manufacturers include Amway, Integrated BioPharma, Inc., NBTY, Inc., Herbalife Ltd., Omega Protein Corporation, Nu Skin Enterprises, Inc., Bayer AG, Naturalife Asia Co., Ltd., Nu Skin Enterprises, Inc., Blackmores Ltd., BASF SE, Epax AS, Surya Herbal Ltd., Koninklijke DSM N.V., Bio-Botanica Inc., The Himalaya Drug Company, Ricola AG, Pharmavite LLC, Blackmores Ltd., and Axellus AS among others.