Free Analysis
Deep Learning is a part of a machine learning method and is a subset of Artificial Intelligence (AI) technology. Deep learning uses a set of algorithms for decision-making while performing certain tasks. The technology is based on the design and operation of the brain and it matches the approach used by humans to gain knowledge of certain types. This form of technology is called the artificial neural networks.
Technological advancement in the automotive sector is preliminarily driving the market. Deep learning is used in various applications such as driver assistance systems, identifying signboards, and tracking pedestrians systems that are deployed in autonomous vehicles. Further, major automotive equipment manufacturers had spent around USD 46 billion in 2015 to develop products that support driverless vehicles. The investments are expected to increase as automotive manufacturers such as BMW, Mercedes, and Volkswagen are planning to introduce autonomous vehicles over the next five years. These developments are expected to fuel the growth of the deep learning market during the forecast period.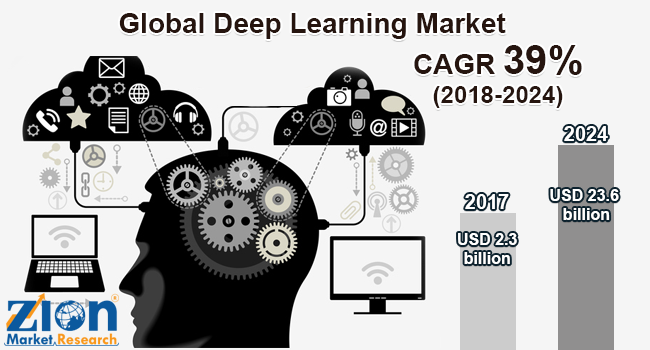 Deep learning helps financial institutes and online retailers to detect and prevent frauds. Over the past decade, online transactions have increased owing to online shopping and introduction of mobile payment option. In 2017, nearly 40 billion global e-commerce transactions were carried out as compared to 21 billion in 2011. This generated the need for technology to protect data and prevent online fraud. Financial institutions such as Citi Bank, PayPal, J.P. Morgan, and HSBC along with others have opted for deep learning for secured transactions. Thus, global deep learning market is expected to propel due to increasing digitalization in various developing countries. On a contrary, high initial investment is expected to have an adverse effect on deep learning market growth. Nonetheless, advancements in technology along with developments in the transportation sector may open new avenues for the market in the near future.
Based on application, the global deep learning market is segmented into speech recognition, image recognition, data mining, drug discovery, driver assistance, and others. The image recognition segment is expected to hold a significant market share during the timeframe. Automotive, healthcare, media & entertainment, BFSI, and others are prominent end-user industries for deep learning market. BFSI segment is projected to grow at a substantial rate during the forecast period.
North America holds the majority of the shares in the global deep learning market and will maintain its dominance in the coming future. Increasing usage of artificial intelligence for military and defense applications along with the rapid advancements in technology are the major drivers for the market in this region. Further, the presence of significant market players in the region is predicted to propel the global deep learning market massively. Growing research & development activities is the major driving factor for the growth of deep learning markets in Asia Pacific region. The Asia Pacific is expected to grow at a significant rate during the analysis period.
Some of the key players in the deep learning market are IBM Corporation, Intel Corporation, NVIDIA Corporation, Alphabet Inc., Advanced Micro Devices Inc., Microsoft Corporation, Arm Holdings, Qualcomm Technologies Inc., Micron Technology Inc., and Amazon Web Services, among others.