Analysis
Data wrangling is defined as a process of mapping or transforming raw data into a valuable one for different applications such as analytics and forecasting. It is also known as data munging. It can also be defined as a process of unifying and cleaning complex and messy data sets for easy analysis and access. Iterative steps for data wrangling include discovering, structuring, cleansing, enriching, validating, and publishing. Different types of data problems faced by data analyzer are missing data, incorrect data, inconsistent representations of the same data, requirement of human intervention for data problems, and overly sanitizing data. With the use of visualization raw data or data issues can be detected, some of the visual representations are node-link diagram, matrix view, and sorted matrix view. The oldest tools used for data wrangling are SQL and Excel but recently, new tools have evolved for fast and powerful wrangling. Some new tools can be listed as Tabula, OpenRefine, "R" packages, DataWrangler, CSVKit, Python and Pandas, Trifacta Wrangler, and Mr. Data Converter. Big data analytics industry is frequently using data wrangling solutions for fast data analysis. Data wrangling aims to reveal deeper intelligence within data, provide actionable and accurate data to business analysts, reduce time in collecting and organizing the data, enable data scientist to concentrate on analysis rather than wrangling or transformation of data and outsource better decision-making skills. Some of the frameworks used frequently for data wrangling are "R", Python, Julia, Java, Hadoop and Hive, Scala, and Kafka and Storm. Leading organizations such as PepsiCo, Royal Bank of Scotland, and Kaiser Permanente are utilizing the benefits of data wrangling solutions with Big Data to accelerate the analysis processes and also to incorporate new data sources that were difficult to work earlier.
Increasing pace and volume of data and advancements in machine learning and AI technologies are some of the major factors which are catering to the data wrangling market growth. Lacking awareness regarding data wrangling tools in SMEs, and focus on maintaining data quality are hindering the market prospect in the forecast period. Increasing regulatory pressure and growth of edge computing are the major opportunities for the data wrangling market growth. However, serious factor curtailing the market growth is reluctance in shifting from traditional ETL tools to automated tools.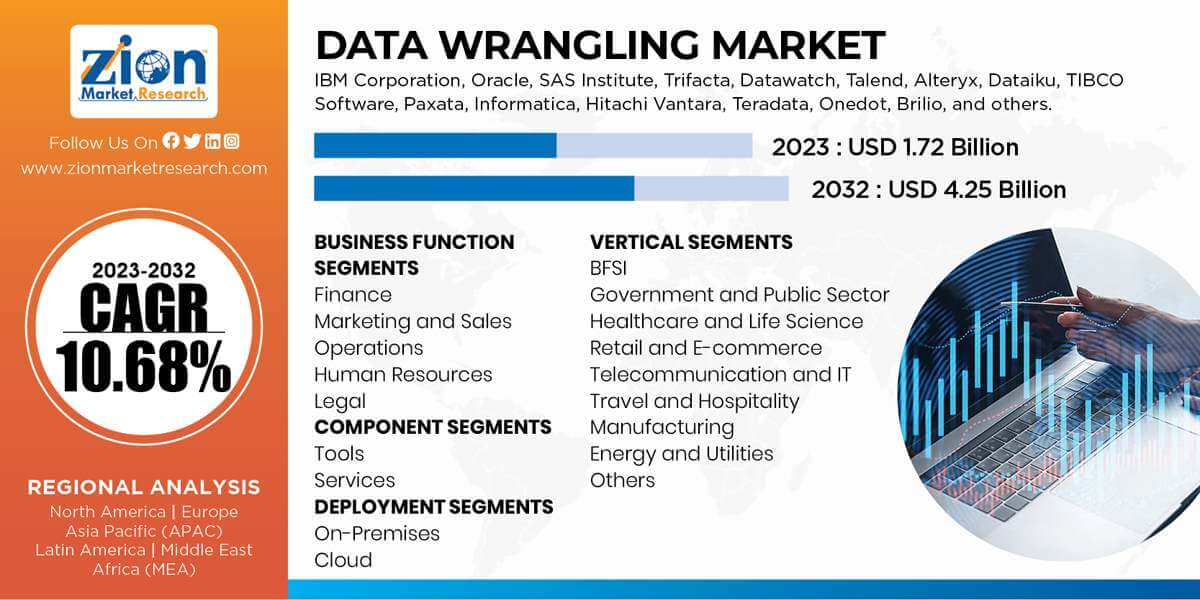 Data wrangling market is segmented on the basis of business function, component, deployment, verticals, and region. On the basis of the business function, the market is categorized into finance, sales and marketing, operations, human resources, and legal. Further by the component type, the global data wrangling market is segmented into tools and services. Furthermore, by deployment type, the market is divided into on-premises and cloud. BFSI, government and public sector, healthcare and life science, retail and e-commerce, telecommunication and IT, travel and hospitality, manufacturing, energy & utilities, and others are the major end-user verticals using data wrangling. In terms of geographic region, North America is expected to dominate the market with highest market share due to the presence of developed economies. Asia Pacific region is expected to grow at the highest CAGR during the forecast period owing to the increasing manufacturing business in the region. Being a manufacturing hub, Asia Pacific region is expected to adopt the data wrangling solutions more substantially to export high-quality goods in a cost-efficient manner.
Many technical giants are showing interest in data wrangling for growing their businesses at a rapid pace. Some of the leading players in the global data wrangling market are IBM Corporation, Oracle, SAS Institute, Trifacta, Datawatch, Talend, Alteryx, Dataiku, TIBCO Software, Paxata, Informatica, Hitachi Vantara, Teradata, Onedot, Brilio, and others.