Analysis
Dairy products include butter, cheese, ice creams, frozen desserts, yogurt, and others. Milk is the most consumed drink, which contains 12-13% of total solids thus being considered as a healthier option. Milk products offer calcium, protein, fats, and vitamin D. As dairy products have very less shelf time they cannot be preserved for a longer duration, hence packaging plays a major role in storing and shipping of these products. Packaging is the process in which the products are protected from getting contaminated and is supplied to the consumers in perfect condition. Moreover, the main aim of dairy products packaging is to grab the consumer attention and convey the supplier's message. Mainly, packaging provides the information about the product contents, procedure, ingredients, and others.
Increasing population and the rising availability of packaged dairy products across various retailing channels are the major factors driving the dairy products packaging market. Moreover, increasing number of consumer preference towards the milk which is a major source of protein, vitamin D, minerals, and calcium is the factor propelling the demand for dairy products. Availability of various dairy products such as cottage cheese, cheese, butter, yogurt, and others which are largely used in various food preparations is also a strong factor anticipated to drive the market growth. Increased consumption of various dairy foodstuffs owing to its health benefits results in rising demand for fresh dairy food products which, in turn, is projected to drive the dairy products packaging market. All these factors are considered to increase the demand for the market during the forecast period.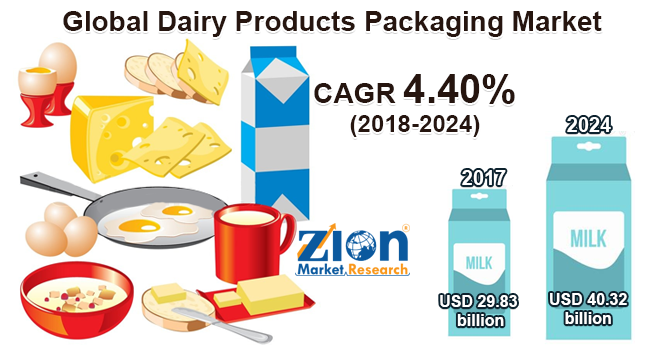 On the basis of material, dairy products packaging market is classified into plastic, paperboard & paper, metal, glass, and others. Based on the product, the market is segmented into bottles & jars, pouches, films & wraps, and others. On the basis of the application, the market is categorized into milk, cheese, frozen products, and others.
North America held considerable revenue share of the dairy products packaging market in 2017 and the region is projected to continue with its regional domination over the forecast period. This growth is attributed due to the increasing demand for dairy products such as yogurt, cheese, butter, and others among the population. Moreover, the U.S. is largest manufacturer and exporter of cheese across the globe which is also anticipated to witness demand for dairy products packaging in this region. Asia Pacific dairy products packaging market is projected to grow at the fastest growth rate over the forecast timeframe. This is accredited to the major production and consumption of milk in the emerging countries such as China and India.
Some of the most important market players in the global dairy products packaging market are Blue Ridge Paper Products, Mondi, Tetra Pack, RPC Group, Indevco, Ball Corporation, CKS Packaging, Bemis Company, Inc., Exopack Holdings, Rexam, Amcor Limited, Evergreen Packaging, Ball, Elopak, Clondalkin Group Holdings, Essel Propack, Crown Holdings, Fabri-Kal, Global Closure Systems, Consolidated Container, and Graham Packaging