Analysis
Crowd analytics refers to the study of behavior and movement of the crowd in mass gatherings. Crowd analytics can be used in various premises, such as malls, railway stations, metros, and retail stores. The main aim of crowd analytics is to generate revenue for the business by studying the choices and needs of the masses. The data can be generated through cameras, sensors, telecom operators, and mobile phones.
The crowd analytics market is anticipated to grow substantially in the upcoming years, owing to the escalating security threats, rising terrorist attacks, and growing inflation in the crime rates has raised the concerns of defense bodies. Moreover, the implementation of smart city projects in North America, Asia Pacific, and Europe is also expected to support the crowd analytics market over the forecast timespan. The elevation in investments in the analytical tools and solutions across the globe will also propel the crowd analytics market in the future. However, the setup cost of video analytics that is an important element for the study of crowd analytics is relatively high, which may hinder the crowd analytics market over the forecast timespan. Moreover, intensive planning, installing, and configuration of software globally are also driving the crowd analytics market significantly. The development of cloud and cloud-based storage has facilitated the storage of video surveillance on the cloud, which will provide vast opportunities for the crowd analytics market in the years ahead.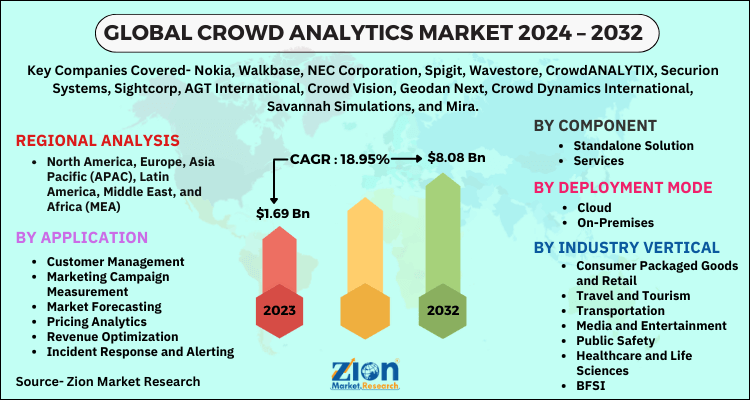 By component, the crowd analytics market is bifurcated into standalone solution and services (professional and managed services). The services segment is estimated to grow exponentially in the future, owing to the elevating need for managing the gathered data. It is the function of services to gather data from conception to the analysis and achieve suitable time and space for the specific data. Customer management, market forecasting, marketing campaign measurement, pricing analytics, incident response and alerting, and revenue optimization constitutes the application segment of the market.
North America is projected to grow exponentially in the upcoming years, owing to the developed economies of the U.S. and Canada, which focus on innovations in the field of R&D and technology. Moreover, the elevating regional adoption of cloud analytics is further anticipated to boost the North American crowd analytics market in the upcoming years.
Some noticeable players of the crowd analytics market are Nokia, Walkbase, NEC Corporation, Spigit, Wavestore, CrowdANALYTIX, Securion Systems, Sightcorp, AGT International, Crowd Vision, Geodan Next, Crowd Dynamics International, Savannah Simulations, and Mira.