Free Analysis
The term cross-border e-commerce is nothing but international online trade, in simple words. It entails selling and purchasing of products via online shops across national and international borders. Cross-border e-commerce refers to the online trade between a retailer/business/brand and customer (B2C); it can also take place between two businesses, across two countries.
Globalization has accelerated the variety and volume of cross-border transactions in products and services via widespread and rapid diffusion of technology. This is the primary factor driving the cross-border B2C e-commerce market globally. Advanced e-commerce technologies deduct administration expenditures and marketing costs, thereby enabling organizations to reach dispersed markets. The fast-paced internet technologies have tremendously boosted the online shopping customer base and expanded the international business market. These developed technologies have also allowed the customers to cross invisible borders and shop online more easily with convenient cross border payment options by simply using their smartphones. In the era of e-commerce and international trade, a company's operational model should be according to the dynamic customer requirements. For customers in developing countries, product piracy, counterfeit goods, and poor quality of goods lead them to purchase products from abroad more frequently. In China, the middle-class population base has become the prime customer group of cross border e-commerce shopping. However, the lack of concrete pricing and limited product availability in foreign markets may hamper the cross-border B2C e-commerce market.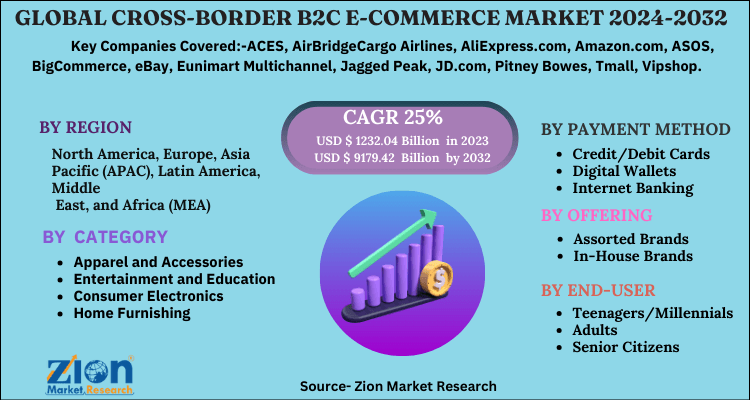 On the basis of category, the cross-border B2C e-commerce market includes entertainment and education, apparel and accessories, home furnishing, consumer electronics, healthcare and nutrition, personal care and beauty, food and beverage, footwear, and others. The apparel and accessories segment is expected to hold the highest market share, whereas the healthcare and nutrition segment is expected to grow faster in the upcoming years. By payment method, the market includes internet banking, digital wallets, credit/debit cards, and others. The digital wallets segment is projected to hold the highest share and internet banking segment is anticipated to grow significantly over the estimated time period.
Europe is expected to hold a considerable share of the cross-border B2C e-commerce market globally, owing to the rising number of online buyers. The UK is expected to make notable contributions to the cross-border B2C e-commerce market in Europe in the years ahead. The Asia Pacific -border B2C e-commerce market is anticipated to grow at the highest rate over the forecast timeframe, owing to the growing demand in India and China.
Some noticeable players in the cross-border B2C e-commerce market are ACES, AirBridgeCargo Airlines, AliExpress.com, Amazon.com, ASOS, BigCommerce, eBay, Eunimart Multichannel, Jagged Peak, JD.com, Pitney Bowes, Tmall, Vipshop, and Zalando.