Analysis
Cosmetic dye is an essential product for many cosmetic items. These dyes are significantly used by the cosmetic industry, as they provide the specific color needed in various cosmetic products. The various applications include toiletries and cosmetic products.
The global cosmetic dyes market has been witnessing significant growth since the last few years, due to the growing use of dyes in the spectrum of cosmetic products, such as lip products, hair color, and eye makeup, among various others. These dyes are further classified as toners and true pigments in cosmetics and healthcare industries. Moreover, these dyes are cost-effective in nature and improve the structural properties of different products. The growth of the cosmetic industry is one of the major factors augmenting the cosmetic dyes market. The rising awareness regarding the use of beauty products, increasing premium on personal grooming, changes in consumption patterns and lifestyles, and improved the purchasing power of women are some other factors that are expected to boost the global cosmetic dyes market growth in the future. However, stringent regulatory policies may act as a restraining factor for the growth of the global cosmetic dyes market. On the other hand, the increasing demand for cosmetic dyes for cosmetics and personal care applications is projected to contribute notably toward the escalating demand for cosmetic dyes. This, in turn, is slated to provide several growth opportunities for the global cosmetic dyes market in the years ahead.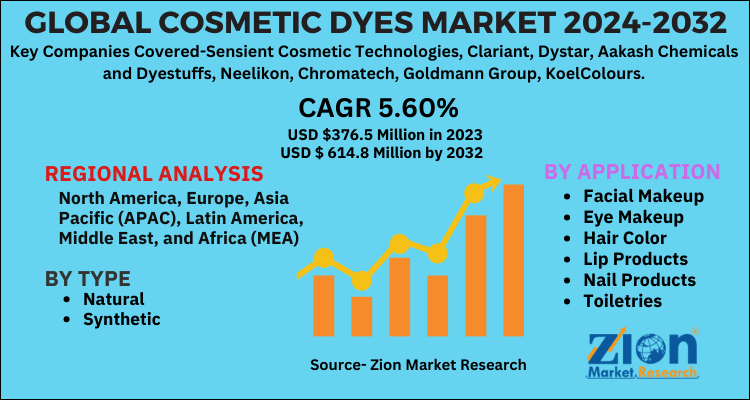 Based on type, the global cosmetic dyes market is classified into natural and synthetic dyes. Natural dyes are expected to witness robust growth over the forecast time period, as these products are less harmful for the skin. This property of natural dyes has increased their demand in the cosmetic dyes market. On the basis of application, the cosmetic dyes market is sectored into facial makeup, eye makeup, hair color, lip products, nail products, and toiletries.
By region, Europe was the largest market for cosmetic dyes in 2018 and accounted for the highest market share, both in terms of revenue and volume. This was due to the shifting trend toward hair coloring and increasing demand for cosmetic dyes in a plethora of applications in the region. The North American cosmetic dyes market is expected to witness significant gains over the forecast time period, due to the various key developments witnessed across the region that have increased the region's demand for cosmetic products.
Some key players operating in the global cosmetic dyes market include Sensient Cosmetic Technologies, Clariant, Dystar, Aakash Chemicals and Dyestuffs, Neelikon, Chromatech, Goldmann Group, KoelColours, Organic Dyes and Pigments, and Pylam, among others.