Free Analysis
Corporate wellness is about people. Since the last decade, companies have started adopting a holistic approach for their employees instead of just addressing their health-related risks. Several organizations worldwide have started introducing wellness programs for their employees to prevent various types of diseases and improve productivity. Corporate wellness programs benefit organizations in enhancing their work productivity along with reducing the overall operational costs. The rising incidences of chronic diseases and obesity witnessed among the employees are increasing their treatment costs, and thereby the cost to the company. To combat this, several companies are addressing the benefits of corporate wellness programs, which will help their workforce to maintain a healthy life, lessen stress, and improve productivity. This, in turn, is likely to drive the global corporate wellness market in the future. Growing demand for corporate wellness programs owing to the rising insurance costs is anticipated to result in the increased financial burden on organizations, which is projected to prominently fuel the corporate wellness market growth on a global scale in the years ahead.
By service, the corporate wellness market is divided into health risk assessment, nutrition and weight management, smoking cessation, health screening, fitness, stress management, and others. The health risk assessment segment is estimated to hold a major share of the global corporate wellness market in 2018, due to the increasing health screening activities in various organizations, which, in turn, allows the organizations to apply strategic and beneficial initiatives to manage the recognized employee's health risks. By end-user, the global corporate wellness market is segmented into small-scale organizations, medium-scale organizations, and large-scale organizations. Large-scale organizations are anticipated to dominate the corporate wellness market in terms of revenue in the future, owing to the high adoption of corporate wellness programs. The small- and medium-scale organizations are anticipated to show significant CAGR, due to the increasing awareness of employee wellness and health management.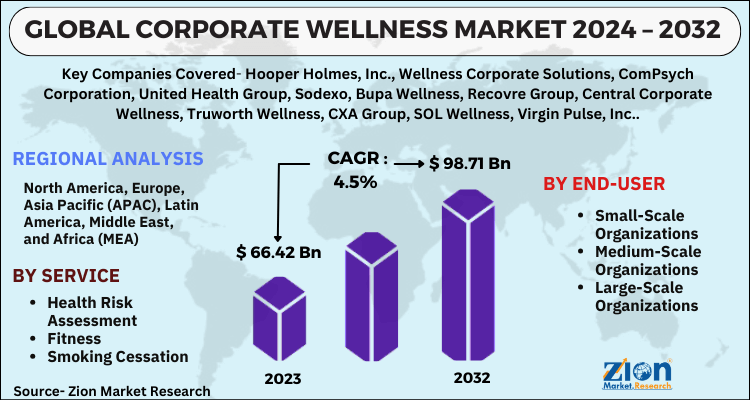 By region, North America is estimated to lead the global corporate wellness market over the estimated timeline. This can be attributed to the high occurrence of lifestyle-related diseases and adoption of wellness services and programs in the region. Europe is likely to follow North America in terms of market growth. The Asia Pacific corporate wellness market is projected to register the highest growth rate in the future, owing to the increasing cases of chronic diseases, rising working population, and growing awareness about employee health risks. The Latin American and the Middle Eastern and African markets are projected to experience moderate market growth in the years to come.
Some key players of the global corporate wellness market are Hooper Holmes, Inc., Wellness Corporate Solutions, United Health Group, Sodexo, Bupa Wellness, Recovre Group, Central Corporate Wellness, Truworth Wellness, CXA Group, SOL Wellness, ComPsych Corporation, Virgin Pulse, Inc., Interactive Health, Inc., FitLinxx, Inc., and ConneXions Asia, among others.