Analysis
Consumer electronics are devices that consist of an electronic circuit board intended for the daily use of an individual. The industry is dynamic, rapidly changing, and highly competitive along with technological developments. Producers are coming up with differentiated and unique products to gain a competitive edge in the market. Successful appliances attract similar products from competitors, leading to rapid commoditization along with price fall.
Increasing demand for smartphones globally will primarily drive consumer electronics market during the forecast period. The growth rate in demand can be attributed to advancement in product features such as powerful camera system, high-resolution display, and fingerprint scanners along with affordable mobile data services in various regions. Consistently declining prices of the latest version of smartphones is increasing the number of users in developing regions at a robust rate. The escalating number of users along with higher replacement cycle of existing smartphones will contribute to the global consumer electronics market.
The demand for televisions with large screen size integrated with the latest technology such as OLED and 4K is at its peak worldwide. The number of producers offering these technologies is rising with prominent players such as Samsung Electronics, Sony Corporation, and LG Electronics, resulting in increased competition. Additionally, rising popularity of 4K and OLED televisions coupled with its declining prices is gaining traction in consumer electronics market. Growing replacement rate of existing television sets with advanced technology version will increase the adoption rate of the products in consumer electronics market till 2024.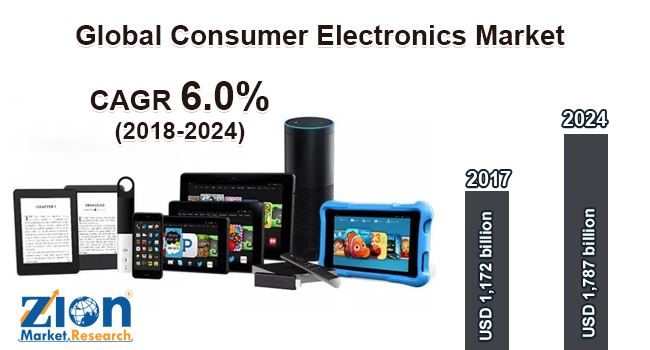 Imaging equipment sales are registering a declining scenario from past few years coupled with dropping manufacturing rate annually owing to increasing smartphone photography. The number of users indulged in digital camera photography application is shrinking drastically. Phone cameras are providing a better quality of photos along with frequent improvement with advanced version phones. These are estimated to improvise further in the forecast years. An inclination of users towards smartphones rather than investing in a DSLR camera will restrain digital cameras demand in consumer electronics market. Furthermore, considering the shrinking demand for cameras, producers such as Nikon and Canon are diverting towards professional applications of digital cameras.
Based on the product, the global consumer electronics market is classified into Smartphone, television, DVD players, refrigerators, washing machines, digital cameras, and hard disk drives. Television is anticipated to register significant gains over the forecast timeframe owing to its technological advancements. Development of technologies such as high-resolution systems, 4K, and 8K will fuel consumer electronics market in the near future.
The Asia Pacific is projected to contribute majorly in global consumer electronics market till 2024. Development in commercial and residential projects in South East Asia countries such as Japan, India, and China are facilitating the growth of consumer electronics market in the forecast period. Increasing disposable income of the regional population is boosting the demand for best available electronic appliances.
Global consumer electronics market is highly fragmented in nature with the presence of many evolving and existing producers. Key players are heavily investing in research and development to introduce advanced versions of existing products along with mergers and acquisitions. Prominent producers in the global consumer electronics market are GoPro, Nikon, Canon, Haier, AB Electrolux, Sennheiser, Sonos, Bose, Sony Corporation, LG Electronics, Huawei, General Electic, Apple, and Samsung Electronics.