Analysis
Animal diagnostics is important as it ensures a better understanding of an ailment. Companion animal diagnostic consists of various instruments and consumables, which can be used to assist in disease diagnosis. It involves the factors responsible for the onset of a disease. The growing demand for effective monitoring of pathogenesis of diseases in companion animals has encouraged various organizations to ensure that appropriate measures are taken. These organizations also aim to focus on disease prevention, maximize productivity, and enhance the nutritional content of various finished pet products.
The willingness of pet owners to improve their pets' health and enhance their lifespan is likely to drive the companion animal diagnostic market globally in the future. As per the APP (American Pet Products Association), the number of pets owned in the U.S. households has increased by 2.1%, which is significantly higher than it was twenty years ago. Moreover, the rise in the number of nuclear families is triggering the increase in pet ownership. Various campaigns are being organized by the community for animal welfare to support the growth of animal healthcare sector, the rising initiatives taken by the U.S. government called as the "Feed the Future", and the increasing foodborne and zoonotic diseases are likely to boost the companion animal diagnostic market.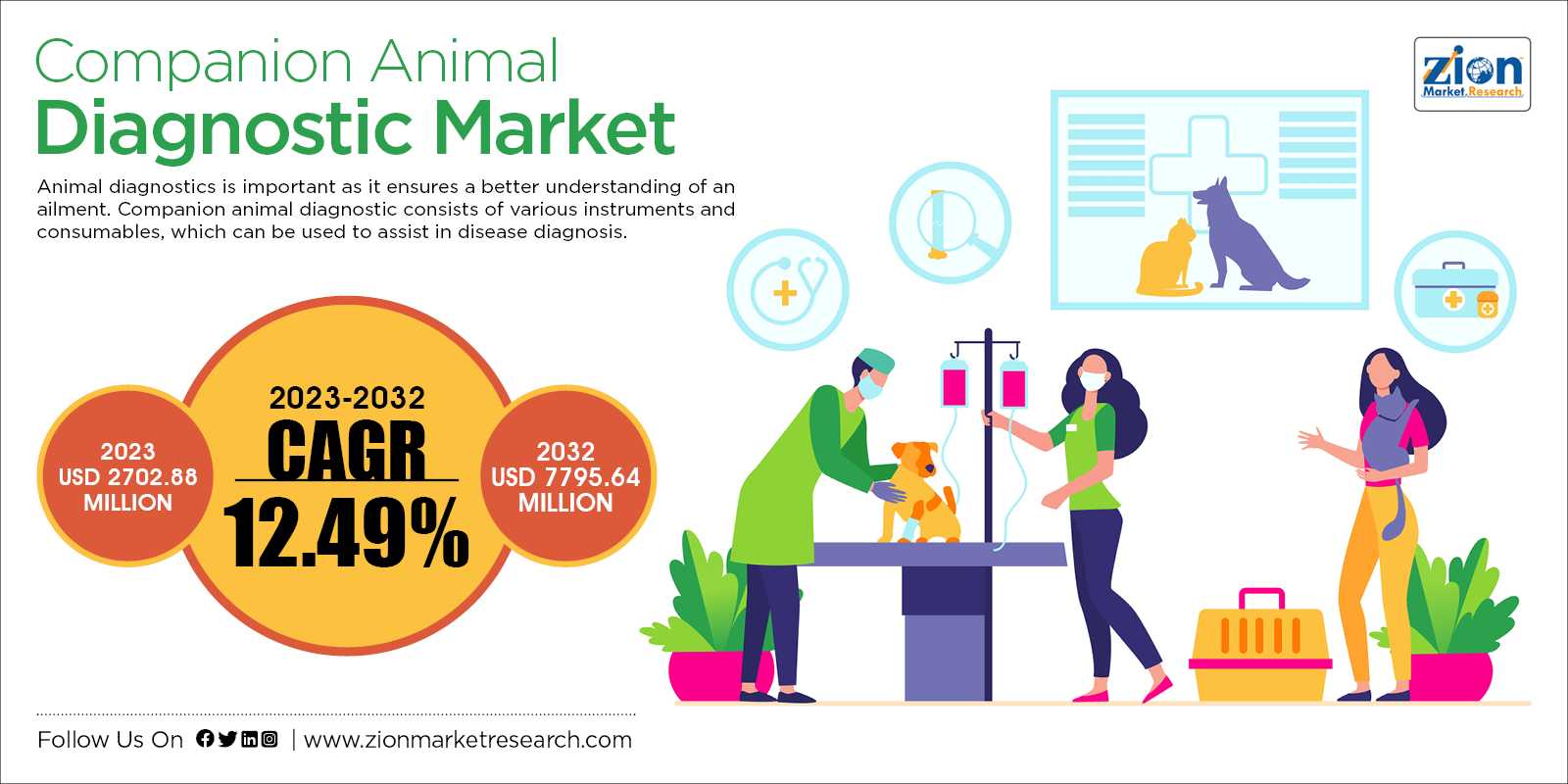 The companion animal diagnostic market is segmented on the basis of companion animal and technology. By companion animal, the market is segmented into dogs, cats, equine, and others. By technology, the market is segmented into immunodiagnostics, clinical biochemistry, hematology, molecular diagnostics, urinalysis, and others. The immunodiagnostics is further segmented into ELISA, lateral flow assays, immunoassay analyzers, and others. The molecular diagnostics market is further segmented into PCR, microarrays, and others.
By region, North America is anticipated to dominate the companion animal diagnostic market and hold a major market share in the forecast period. The presence of major industry players and initiatives taken by them toward animal care is likely to propel the region's companion animal diagnostic market. The key market players are taking initiatives and collaborating with various animal welfare organizations to improve and create awareness for companion animal healthcare. For instance, Ceva, in 2015, renewed its partnership with American Association of Feline Practitioners, to protect animals against diseases further encouraging pet owners to live in urbanized societies and take better care of pets.
Some of the leading players in the companion animal diagnostic market are Thermo Fisher Scientific, Heska Corporation, QIAGEN, Randox Laboratories, Abaxis, Inc., IDEXX Laboratories, Inc., Neogen Corp., Virbac, and Zoetis Inc., among others.