Analysis
Commercial satellite imaging refers to obtaining geospatial data by using a satellite to scan the Earth or any other planets. The images obtained are in real-time and are used for many purposes, such as geographical border surveillance, environmental monitoring, natural resource monitoring, etc. Satellite imaging provides faster capturing of images and covers the entire globe, which makes it preferable over other imaging solutions. Moreover, satellite imagery is collected digitally that helps in preventing data any kind of loss. It also offers huge benefits related to economic development and environmental protection.
The rising adoption of location-based services (LBS) in defense and intelligence, energy, e-retailing, manufacturing, transportation, and telecommunication sectors is driving the commercial satellite imaging market growth. Moreover, the introduction of Google Earth, increasing use of consumer electronics, and substantial technological advancements are other factors supporting the commercial satellite imaging market globally. However, aerial imaging captures high-resolution images as compared to satellite imaging, which may hamper the commercial satellite imaging market. Furthermore, the low price of satellite imaging and launch of remote sensing technology, such as GPS satellites and high-resolution cameras, are likely to create numerous growth opportunities for this market.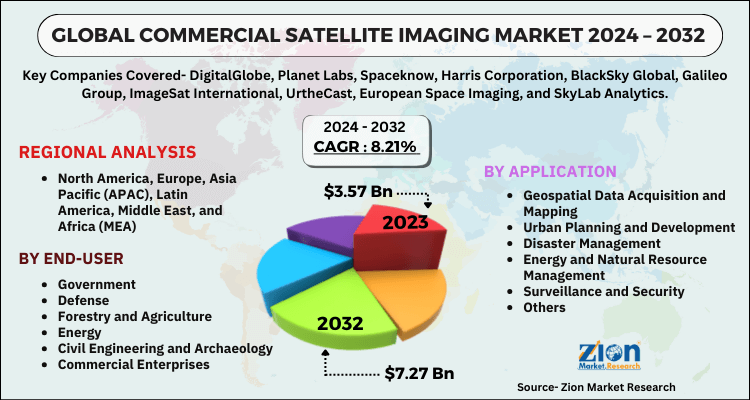 The global commercial satellite imaging market is fragmented on the basis of end-user and application. On the basis of application, disaster management is anticipated to grow in the future owing to the rising prevalence of natural disasters like floods, cyclones, terrorist attacks, etc. Satellite imaging provides real-time images that provide information about a particular location, which, in turn, helps the officials for analyzing, assessing, and inspecting the natural disasters that may occur. Moreover, satellite imagery can be used in the urban planning and development segment, owing to the inclination toward regional development. The images produced by satellites are used by engineers to study and generate development strategies related to a particular region alongside using them for evaluating environmental impact and sanctioning construction budget.
The North American commercial satellite imaging market is expected to witness noticeable growth in the upcoming years, owing to the rising adoption of satellite imaging by the U.S. government. These satellites are used by the military and defense sector to track terrorist activities happening in and around the country along with being used in disaster management, to monitor and avoid disastrous incidents. The Asia Pacific commercial satellite imaging market is anticipated to grow considerably, owing to rapid technological advancements, the presence of growing economies, increasing number of internet users, and rising adoption of satellite imagery by the regional governments.
Some noticeable players of the global commercial satellite imaging market are DigitalGlobe, Planet Labs, Spaceknow, Harris Corporation, BlackSky Global, Galileo Group, ImageSat International, UrtheCast, European Space Imaging, and SkyLab Analytics.