Analysis
A cochlear implant is an electronic medical device that helps inre-establishing the sense of hearing by performing the work of damaged parts of the inner ear (cochlea) by communicating the sound signals to the brain. A cochlear implant is suggested for those individuals with low to high hearing loss. A cochlear implant bypasses the normal functioning of the inner ear and provides electrical stimulation directly to the cochlear nerve fibers. The surgical procedure, used most often, to implant cochlear implant is called mastoidectomy with facial recess approach (MFRA). The first cochlear implant was developed by 3M and approved by FDA in 1984. The implant has two components—outside components are worn over the ear and inside components are implanted across the skin. This, in turn, converts the sound into electrical signals which stimulate the auditory nerve and interpret them as speech or sound.
The major factors driving the growth of the cochlear implants market are the technological advancements made in cochlear implants, various product launches, and approvals. There have been tremendous technological advancements which have increased patient comfort, safety, etc. Venus cochlear implant system was launched by Nurotron Biotechnology in Europe in January 2017. Furthermore, the increased focus on customization and appearance has also increased the demand for customized cochlear implants, which are concealable. Moreover, increasing geriatric population is also a major factor contributing towards the large patient pool. As per the Population Reference Bureau, in 2016, there were around 46 million people aged 65 and above in America and this number is slated to reach 98 million by 2060. Furthermore, an increase in the number of neonates born with hearing defects is also expected to support the growth of the cochlear implants market over the forecast timeframe. However, the high costs of cochlear implants and implant procedure might inhibit the growth of the cochlear implants market in the forecast timeframe.
`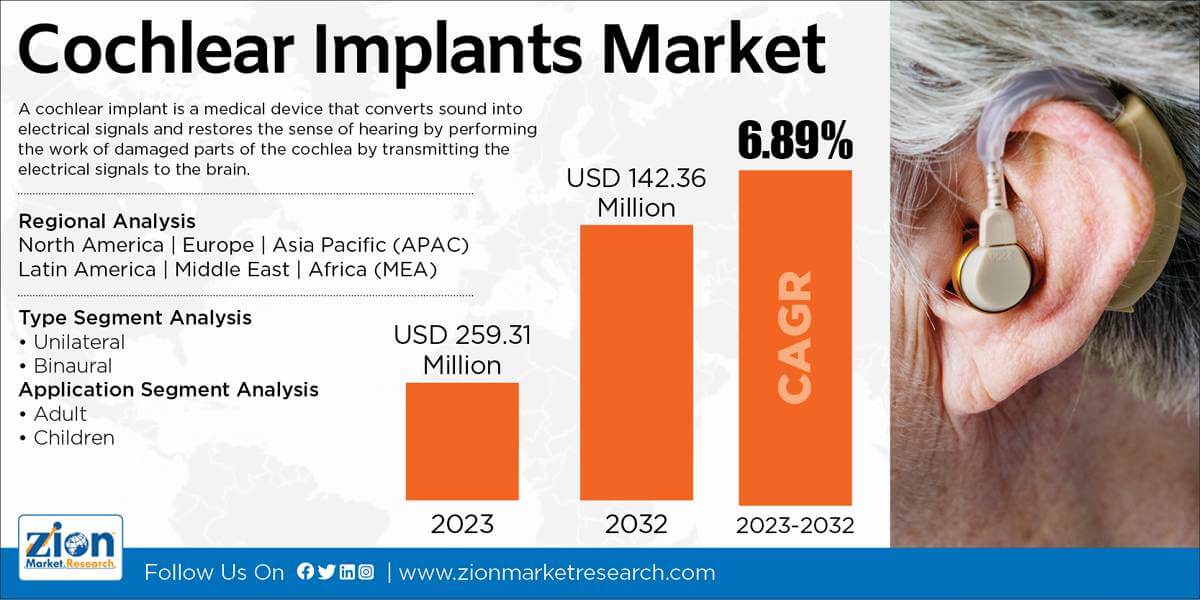 The cochlear implants market is classified into type and application. Based on the type, the cochlear implant market is divided into unilateral and binaural. The binaural segment is expected to dominate the cochlear implant market in the forecast timeframe. Based on application, the cochlear implants market is bifurcated into adult and children. Children segment is expected to dominate the cochlear implants market in the forecast timeframe.
The global cochlear implants market is regionally segmented into North America, Europe, Asia Pacific, Latin America, and the Middle East and Africa. Europe is expected to dominate the global cochlear implants market in the forecast timeframe, closely followed by North America. The Asia Pacific is expected to be the third largest and fastest growing region in the forecast timeframe. Latin AmericanandtheMiddle Eastern and African markets are expected to grow considerably during the estimated timeframe.
Some major market players of cochlear implants include cochlear Ltd., Nurotron Biotechnology Co. Ltd., MED-EL, William Demant Holding A/S, and Advanced Bionics AG (Sonova), among others.