Analysis
Coated fabrics are made by applying different bonding agents and substances like rubber, varnish, thermoplastic coatings, and lacquer, on the fabric substrate. Coated fabrics are stable, durable, and washable, making them much stronger than uncoated fabrics. Rubber coated fabrics are close textured fabrics that exhibit low diffusion and permeation rate apart from being electrically conductive and provide better resistance to temperature, oil, and weather.
The global coated fabrics market is expected to grow at a fast rate owing to the increasing demand for coated fabrics for manufacturing airbags and seating used in automobiles, upholstered furniture, and protective apparel. Additionally, the growing usage of rubber-coated fabrics to produce military wear and protective clothing is further estimated to drive the global coated fabrics market globally. Growing infrastructure investments is further anticipated to surge the demand for awnings, wall coverings, and canopies, thereby, propelling the demand for coated fabrics market. However, the fluctuating prices of coated fabrics might hamper the market growth in the forecast timeframe. The rapid developments in the innovative coated fabric products for protective clothing are likely to offer new opportunities for the coated fabrics market growth in the upcoming years.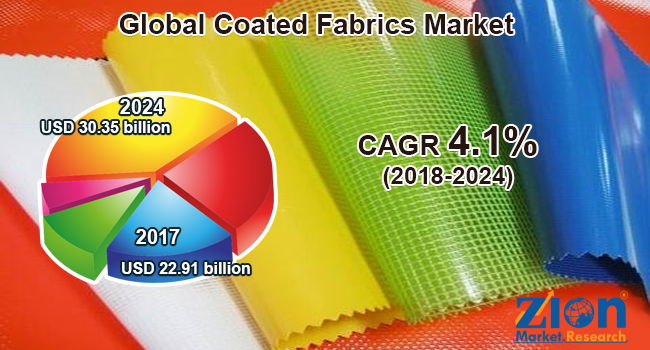 The coated fabrics market is classified on the basis of product and application. Based on the type, the coated fabric market is divided into rubber, fabric-backed wall coverings, and polymer. Among all products, the polymer-based coated fabric is expected to dominate the coated fabrics market, due to the growing demand for protective clothing and increasing requirement for airbags in automobiles. The growing automobile industry in Asia Pacific countries is estimated to boost the overall demand for coated fabrics. By application, the global coated fabrics market includes protective clothing, transportation, awnings, industrial, roofing and canopies, and furniture and seating. Increasing demand for protective clothing in various industries, such as medical, chemical processing, military, and agriculture, is likely to further escalate the coated fabrics market growth.
The geographic analysis of the coated fabrics market includes North America, Europe, Asia Pacific, Latin America, and the Middle East and Africa. In 2017, Asia Pacific dominated the market for coated fabrics, followed by North America. Due to rapid industrialization, high economic growth, and a rise in the investments made across industries, the demand for coated fabrics is expected to increase in the Asia Pacific region. Additionally, the rising implementation of strict regulations for Fire Safety in industries by the Fire Safety Forum Asia (FFSA) and Industries Development and Regulation Act of India is also fuelling the demand for coated fabrics in the region.
The global coated fabrics market involves a large number of players such as Omnova Solutions, Saint-Gobain, Takata Corporation, Canadian General Tower, Bo-Tex Sales Co., ContiTech AG, Mauritzon Inc., Graniteville Specialty Fabrics, and IsotexS.p.A., among others.