Analysis
Cannabis edibles are food products that consist of cannabinoids and its derivatives. Various cannabis edibles contain a substantial proportion of cannabinoids that help in reducing fatigue and anxiety along with improving appetite. These products help in enhancing euphoria and relaxation and are consumed for both medicinal and recreational purposes.
These products are considered to be safe, effective, and possess healing and intoxicating effects of cannabis without the exposure to potential hazards of cannabis smoking. This, in turn, is likely to drive the cannabis edibles market globally over the years ahead. Additionally, the growing use of cannabis edibles in baked items, beverages, candies, chocolates, gummies, and lozenges are predicted to further drive the cannabis edibles market globally in the future. With the increasing popularity of these products in the countries that are legalizing cannabis for medicinal application, the cannabis edibles market is slated to experience a momentous growth in the upcoming decade. However, many cannabis extracts used in cannabis edibles preparation are bound to face regulatory challenges and judicial scrutiny in the future, which may hinder the global cannabis edibles market growth in the years ahead. Nevertheless, the increased use of cannabis edibles for effectively treating cancer, epilepsy, anorexia, chronic pain, multiple sclerosis, arthritis, nausea, and Alzheimer's is projected to nullify the impacts of various market hindrances.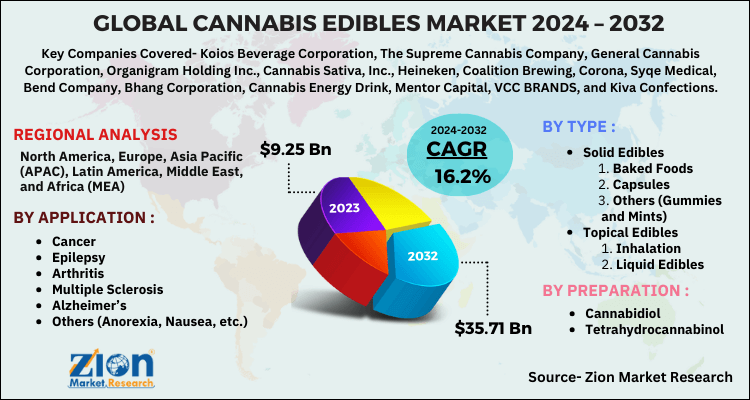 The global cannabis edibles market is segmented based on type, preparation, and application. By type, the global cannabis edibles market includes solid edibles, topical edibles, inhalation, and liquid edibles. Solid edibles are further segmented into baked foods, capsules, and others (gummies and mints). By preparation, the global cannabis edibles market is bifurcated into cannabidiol and tetrahydrocannabinol. By application, the cannabis edibles market is segmented into cancer, epilepsy, arthritis, multiple sclerosis, Alzheimer's, and others (anorexia, nausea, etc.).
By region, North America held the major share of the global cannabis edibles market in 2018 and is estimated to dominate over the forecast time period as well. This regional growth can be attributed to the huge consumer spending on cannabis products. In addition, the legalization of cannabis in Canada for recreational use is expected to create new growth opportunities for the North American cannabis edible market in the upcoming years.
Some key players of the global cannabis edibles market are Koios Beverage Corporation, The Supreme Cannabis Company, General Cannabis Corporation, Organigram Holding Inc., Cannabis Sativa, Inc., Heineken, Coalition Brewing, Corona, Syqe Medical, Bend Company, Bhang Corporation, Cannabis Energy Drink, Mentor Capital, VCC Brands, and Kiva Confections.