Analysis
Building insulation is the process of reducing heat transfer between adjacent environments and maintaining an ambient temperature indoors. These insulated buildings help reduce the carbon footprint as it utilizes less energy in order to maintain a temperature and limits the conduction of heat to the external environment. Thermally insulated homes or buildings are less affected by external environmental temperature. Thermal insulation in buildings can be done using various materials such as foamed plastic, fiber glass, and mineral wool among various others such as cotton slag, wool slag, aerogels etc. Foamed plastic insulation materials include expanded polystyrene, extruded polystyrene, polyurethane and other forms of plastic.
The major factor which is driving the growth of the building insulation market is stringent energy efficiency regulations for buildings are driving the penetration of insulation in the overall building stock and also increasing the amount of insulation needed per building. The emerging trends such as the shift towards greener insulation alternatives and increasing demand for high-temperature thermal insulation are having a direct impact on the dynamics of the building insulation industry. However, lack of awareness about energy saving and slow growth of construction industry is hindering the growth of building insulation market. Nonetheless, building insulation market will be expected to spur demand due to growth of construction sector in economically emerging countries such as China, Brazil, India, Netherlands, and others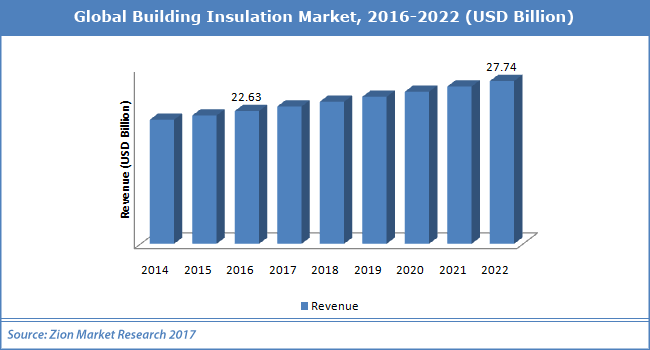 Building insulation market is segmented on the basis of material application and region. By material, the market is segmented into wool insulation, plastic foams, and others. Building insulation market is dominated by wool insulation due to its attributes such as higher thermal resistance, R-value (R-value is a measure of thermal resistance), versatility, strength, and life span. The plastic foam insulation segment is expected to be the fastest-growing type of building thermal insulation over the forecast period. Application segment is divided into wall insulation, roof insulation, and floor insulation. The market in the roof insulation application is expected to witness the highest growth rate due to the growing commercial and residential insulation in North America, Europe, and Asia-Pacific. The growing construction industry in the Asia Pacific and Middle East countries such as China, Japan, and India is also driving the market in this segment.
By region, North America is held largest share in 2016 for insulation materials, and the revived growth in the construction industry in coming years. The insulation market in Europe is expected considerable growth due to mostly dependent upon re-insulation of old buildings. Asia Pacific will be expected highest CAGR for building insulation market. The Asia Pacific building insulation market is primarily driven by non-residential insulation. The manufacturing economies of China and India have created a market for insulation materials, while the market for building insulation in Japan is in matured stage. The Middle East & Africa and Latin America will be expected potential growth owing to growth construction industry.
BASF SE, Rockwool International A/S, Johns Manville Inc., Knauf Insulation, Beijing New Building Material, Paroc, Saint-Gobain, GAF, Kingspan Group Plc, and Owens Corning Corporation, among others are the major building insulation suppliers.