Analysis
Building analytics helps organizations in the construction sector to ensure occupant comfort, improve efficiency, and better the financial well-being of a building. These platforms automatically analyze the building data received from sensors, meters, automation systems, and other smart devices to provide vital building insights.
Rising technological investments in the construction sector are fueling the building analytics market. In the first half of 2018, the global investments in construction technology were USD 1.05 billion, around 30% more as compared to 2017. A majority of these investments were for solutions that provide analysis, cost reduction, and improved efficiency. Thus, the upsurge of building analytics market is over the forecast timeframe is imminent. The increasing adoption of "Internet of Things" (IoT) to optimize building performance and reduce facilities management expenses is also fueling the building analytics market. Structures are becoming complex due to the increasing number of interconnected devices. The enormous volume of data is generated by these devices. Building analytics IoT platforms integrate all IT data and operational building investments and utilize data efficiently to find essential energy and operational savings. However, the high cost of implementing these solutions may limit the market over the forthcoming years. Alternatively, the rising awareness about smart homes will open new growth avenues for the market over the estimated timeframe.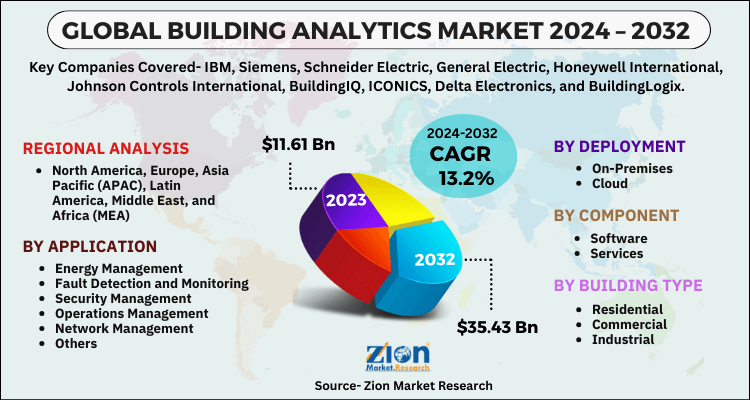 The building analytics market is divided on the basis of component, deployment, building type, and application. By application, the market includes fault detection and monitoring, energy management, security management, network management, operations management, and others. The fault detection and monitoring segment is expected to hold a notable share of the market, owing to the rising awareness about the safety of workers and on-site employees. The energy management segment is projected to grow at a considerable rate, owing to the growing demand for energy management solutions by the construction sector.
The Asia Pacific is anticipated to witness a notable growth rate in the building analytics market globally in the future. China and India are projected to generate huge demands for the software in this region, owing to the rapid economic development and growing adoption of technology in the construction sector. The European building analytics market is expected to hold a notable share globally in the years ahead. Market players are opting to expand their business in this region, specifically in the UK, Germany, and France.
Some noticeable players of the building analytics market are IBM, Siemens, Schneider Electric, General Electric, Honeywell International, Johnson Controls International, BuildingIQ, ICONICS, Delta Electronics, and BuildingLogix.