Free Analysis
Blood collection is the procedure of obtaining blood samples from a patient/donor for different purposes, such as treating patients, diagnostic, and laboratory tests. The blood collection process is a vital part of the blood management procedure in blood banks and hospitals. The quantity of blood drawn differs and should not be over 1% of the donor's body weight. The process of blood collection can be performed using an automated apparatus that collects only particular blood components or it can be collected manually.
The development of the global blood collection market is likely to be fueled by the growing incidences of accidents and trauma and an increasing number of surgical procedures performed across the globe over the estimated timeframe. According to the World Health Organization (WHO), in 2012, about 266.2 to 359.5 million surgical procedures were performed globally and these numbers are anticipated to increase in the future. However, the risks associated with the blood transfusion process in underdeveloped regions may hinder the blood collection market globally over the forecast period.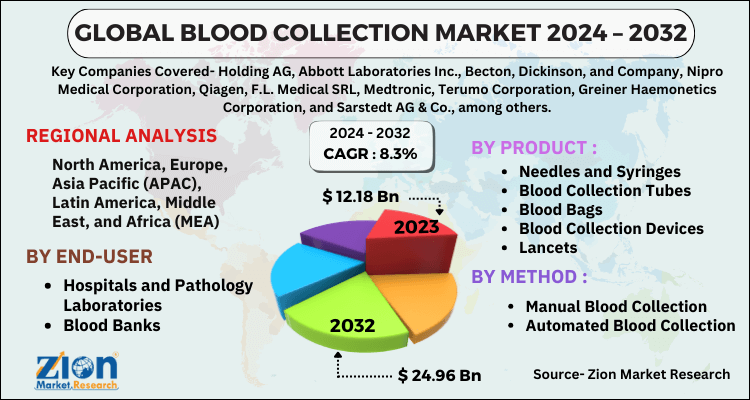 By product, the market is segmented into needles and syringes, blood collection devices blood bags, blood collection tubes, and lancets. The blood collection tubes segment further includes serum tubes and plasma/whole blood tubes. The needles and syringes segment is anticipated to hold a significant share of the global blood collection market in the future, owing to its wide range of applications and enhanced product qualities. By the method, the market includes manual blood collection and automated blood collection. The manual blood collection segment is estimated show the highest CAGR over the forecast timeline, owing to the affordable cost and high adoption of manual blood collection method in developing regions. By end-user, the market is segmented into hospitals and pathology laboratories, blood banks, and others. The hospitals and pathology laboratories segment is estimated to dominate the global blood collection market over the estimated time period.
By region, North America is likely to lead the global blood collection market over the forecast time period, owing to the high prevalence of infectious diseases and adoption of improved and advanced diagnostic techniques in the region. The Asia Pacific blood collection market is estimated to show the highest growth rate in the future, owing to the increasing disease burden, such as tuberculosis, HIV infection, malaria, etc., in this region, growing population, and raising awareness about blood-related diseases. The Latin American and the Middle Eastern and African markets are expected to experience moderate growth in the years ahead, owing to the increasing government initiatives.
Some key players of the global blood collection market include Holding AG, Abbott Laboratories Inc., Becton, Dickinson, and Company, Nipro Medical Corporation, Qiagen, F.L. Medical SRL, Medtronic, Terumo Corporation, Greiner Haemonetics Corporation, and Sarstedt AG & Co., among others.